Fistful of Vengeance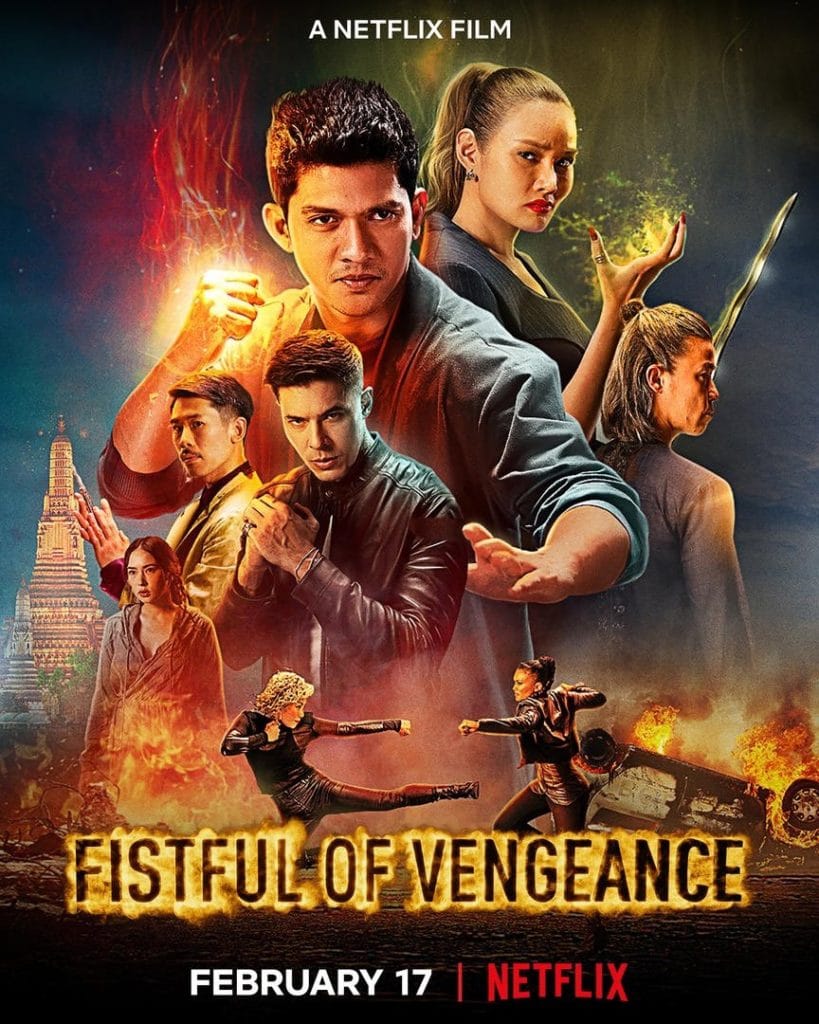 Fistful of Vengeance is Netflix's original supernatural action thriller directed by Roel Reiné and written by Cameron Litvack, Jessica Chou, and Yalun Tu. The film serves as a follow-up to the first season of the Netflix series Wu Assassins and stars Iko Uwais, Lewis Tan, Lawrence Kao, JuJu Chan, Pearl Thusi, Francesca Corney, Jason Tobin, Rhatha Phongam, and Simon Kuke. The first season received positive reviews, with critics praising the fight choreography.
Synopsis: Fistful of Vengeance will see the Wu Assassin team reunite in Bangkok to avenge the death of one of their own, only to find that their new enemy is an ancient threat armed with otherworldly powers. This is worth watching for action lovers and fans of the Netflix series.
Fistful of Vengeance Netflix release date: February 17, 2022
Uncharted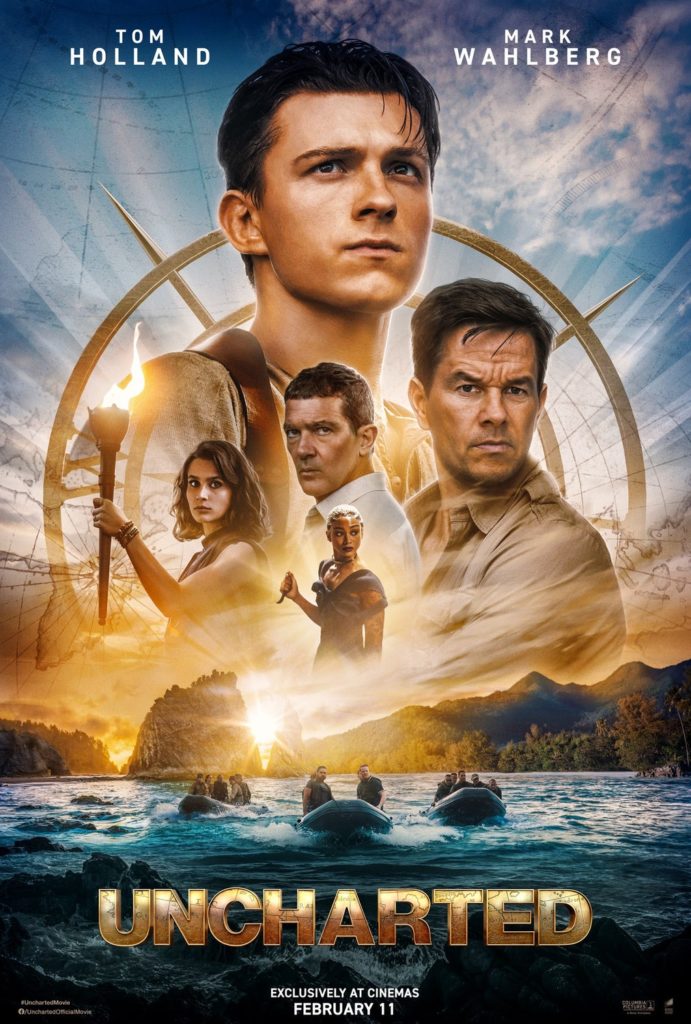 Uncharted is Sony Pictures' action-adventure film directed by Ruben Fleischer (Zombieland 1 & 2, Venom) from a screenplay by Rafe Lee Judkins, Art Marcum, and Matt Holloway, and story by Judkins, Jon Hanley Rosenberg, and Mark D. Walker. Based on the popular video game series of the same name developed by Naughty Dog. The main series of games follows Nathan Drake, a treasure hunter who travels across the world to uncover various historical mysteries.
It stars Tom Holland as Nathan Drake and Mark Wahlberg as his mentor Victor Sullivan, with Sophia Ali, Tati Gabrielle, and Antonio Banderas in supporting roles. Fans of the games were waiting for a live-action adaptation for a long time.
UNCHARTED: LOST LEGACY DIRECTOR BELIEVES TOM HOLLAND'S CASTING OF NATHAN DRAKE IS A "GREAT CHOICE"
Synopsis: Street-smart thief Nathan Drake (Holland) is recruited by seasoned treasure hunter Victor "Sully" Sullivan (Wahlberg) to recover a fortune lost by Ferdinand Magellan 500 years ago. What starts as a heist job for the duo becomes a globe-trotting, white-knuckle race to reach the prize before the ruthless Moncada (Banderas), who believes he and his family are the rightful heirs. If Nate and Sully can decipher the clues and solve one of the world's oldest mysteries, they stand to find $5 billion in treasure and perhaps even Nate's long-lost brother…but only if they can learn to work together.
There are six Uncharted games. This series has been universally acclaimed and commercially successful, having shipped more than 41 million units, making it one of the best-selling video game franchises of all time. The film adaptation was in development for a very long time with various directors, writers, and cast members attached at various points, and was delayed multiple times, even Wahlberg was set to play Drake in early development.
This tentpole adventure film is one of the most anticipated movies of 2022. We have to wait and see if this film can break the cycle of failed video-game adaptations. Sony is hoping to continue to ride on Spider-Man: No Way Home and Tom Holland's momentum by releasing this after No Way Home's theatrical run which began in December. The trailers for this looked promising with big action set pieces.
Sony is planning to build a film franchise starting with this movie. Uncharted is scheduled to be theatrically released by Sony Pictures Releasing on February 11, 2022, in the UK, and on February 18 worldwide. This action-packed adventure-filled film is a must-watch for everyone.
Uncharted release date: February 18, 2022
RELATED: NEW UNCHARTED SCENES NODS TO VIDEO GAME ORIGINS
Dog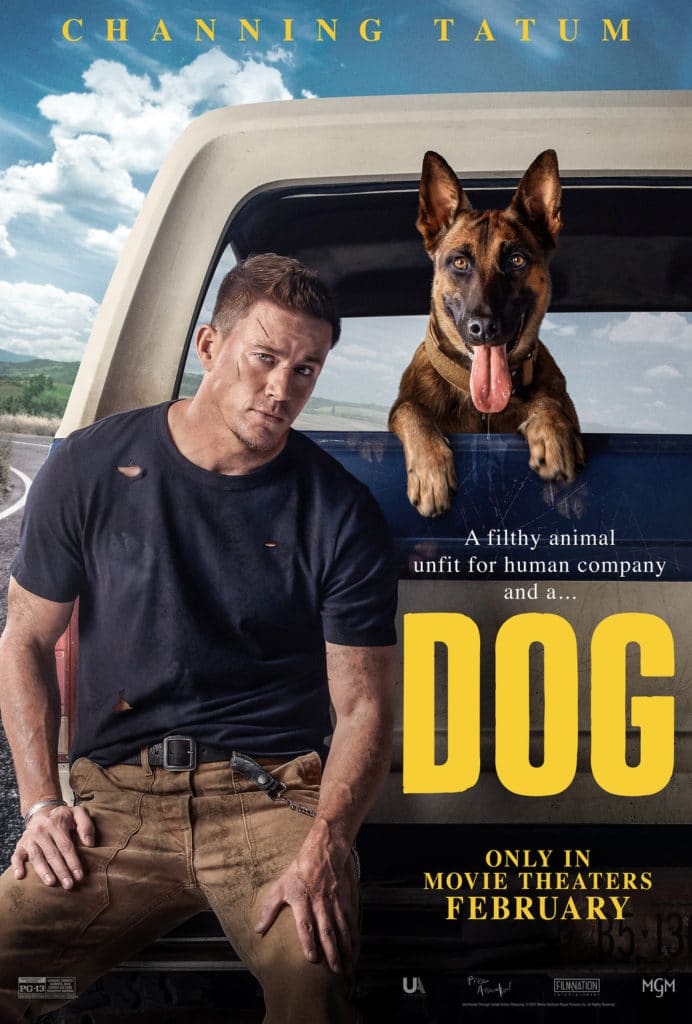 Dog is United Artists Releasing's and MGM's comedy film directed by Channing Tatum and Reid Carolin, both making their respective feature directorial debuts. Tatum also serves as a producer. This is a charming fun comedy with an interesting premise. The film is scheduled for a wide theatrical release by United Artists Releasing this month. This is a must-watch film.
The film stars Tatum, Jane Adams, Kevin Nash, Q'orianka Kilcher, Ethan Suplee, Emmy Raver-Lampman, Aqueela Zoll, Nicole LaLiberte, Ronnie Gene Blevins, Skyler Joy, Amanda Booth, Cayden Boyd, and Bill Burr.
Synopsis: Dog is a buddy comedy that follows the misadventures of two former Army Rangers paired against their will on the road trip of a lifetime. Army Ranger Briggs (Tatum) and Lulu (a Belgian Malinois dog) buckle into a 1984 Ford Bronco and races down the Pacific Coast in hopes of making it to a fellow soldier's funeral on time. Along the way, they'll drive each other completely crazy, break a small handful of laws, narrowly evade death, and learn to let down their guards in order to have a fighting chance of finding happiness.
Dog release date: February 18, 2022
Texas Chainsaw Massacre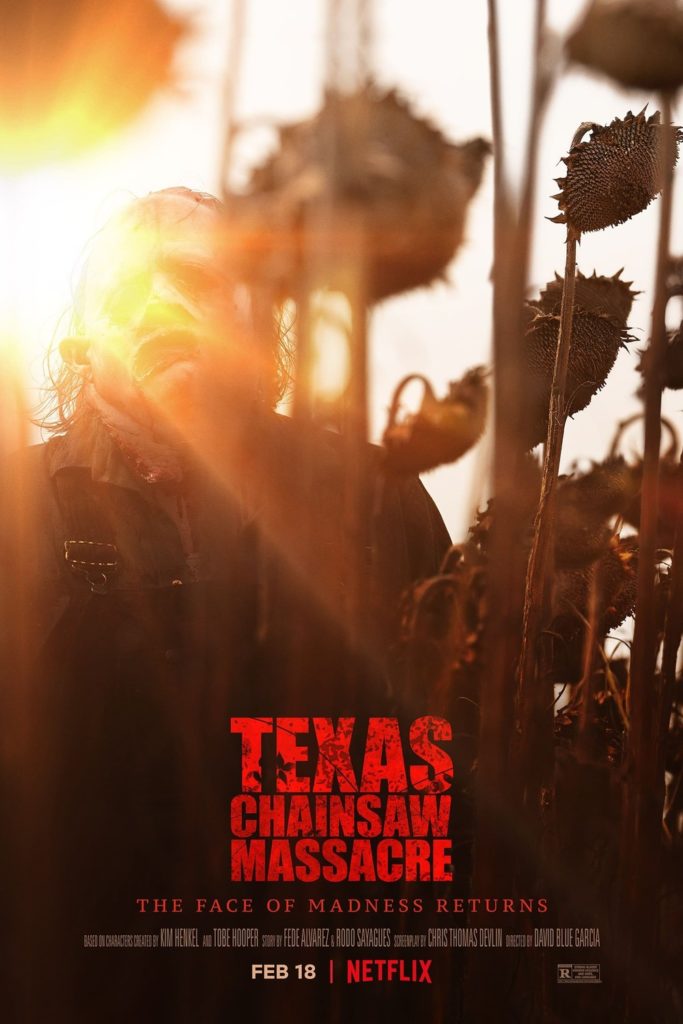 Texas Chainsaw Massacre is Netflix's original slasher/ horror thriller directed by David Blue Garcia, with a screenplay by Chris Thomas Devlin, from an original story co-written by Fede Álvarez and Rodo Sayagues. It is a direct sequel to the original The Texas Chain Saw Massacre (1974) and the ninth installment of the Texas Chainsaw Massacre (TCM) franchise.
Picking up several decades after the original film, it focuses on the serial killer Leatherface targeting a group of businessmen and coming into conflict with a vengeful survivor of his previous murders. This is one of the classic horror franchises of all time and Leatherface is an iconic horror character.
It stars Sarah Yarkin, Elsie Fisher, Mark Burnham as Leatherface, Jacob Latimore, Moe Dunford, Olwen Fouéré, Alice Krige, Jessica Allain, and Nell Hudson. Leatherface was previously portrayed by the late Gunnar Hansen in the original film. Fouéré is portraying Sally Hardesty who was previously portrayed by Marilyn Burns in the original film and Texas Chainsaw Massacre: The Next Generation in 1995. John Larroquette reprises his role as the film's narrator, having provided the voice-over for the original film and its 2003 remake and the 2006 prequel.
Synopsis: Melody (Yarkin), her teenage sister Lila (Fisher), and their friends Dante (Latimore) and Ruth (Hudson), head to the remote town of Harlow, Texas to start an idealistic new business venture. But their dream soon turns into a waking nightmare when they accidentally disrupt the home of Leatherface (Burnham), the deranged serial killer whose blood-soaked legacy continues to haunt the area's residents — including Sally Hardesty (Fouéré), the sole survivor of his infamous 1973 massacre who's hell-bent on seeking revenge.
Recently some of the classic horror franchises are making a comeback. In 2018, Halloween was revived and became a hit and spawned a sequel in 2021 and a third one coming later this year. We also got a Chucky film and a show, a Saw reboot titled Spiral, a new Paranormal Activity film, I Know What You Did Last Summer series, etc while a Hellraiser reboot and a few others are on their way. Last month we got a Scream sequel/soft reboot which became a decent hit and getting another sequel.
Similar to the approach that Blumhouse Productions took with their 2018 Halloween film the new Texas Chain Saw Massacre is a direct sequel to the original by ignoring all other sequels although according to writer/ producer Álvarez it does not mean it completely erases the previous sequel's continuity but still it is a sequel to the original. In this universe, Leatherface hasn't been seen or heard from since the tragic, bloody events of the first film.
The R-rated horror mystery thriller is scheduled to be released on Netflix this month. This is a must-watch for horror genre fans and fans of this franchise.
RELATED: TEXAS CHAINSAW MASSACRE 2022 TRAILER BRINGS A GROUP OF MILLENNIALS TO LEATHERFACE'S SLAUGHTER
Texas Chainsaw Massacre Netflix release date: February 18, 2022
A Banquet
A Banquet is IFC Midnight's horror film directed by Ruth Paxton and written by Justin Bull. The film stars Sienna Guillory, Jessica Alexander, Ruby Stokes, Kaine Zajaz, Richard Keep, Rina Mahoney, and Lindsay Duncan. It premiered at the 2021 Toronto Film Festival. It currently holds a 73% RT score based on 22 reviews. It is scheduled for a limited theatrical release and a simultaneous on-demand release.
Synopsis: Widowed mother Holly (Guillory) is radically tested when her teenage daughter Betsey (Alexander) experiences profound enlightenment and insists that her body is no longer her own but in service to a higher power. Bound to her newfound faith, Betsey refuses to eat but loses no weight. In an agonizing dilemma, torn between love and fear, Holly is forced to confront the boundaries of her own beliefs.
A Banquet (VOD & limited theatres) release date: February 18, 2022
Potato Dreams of America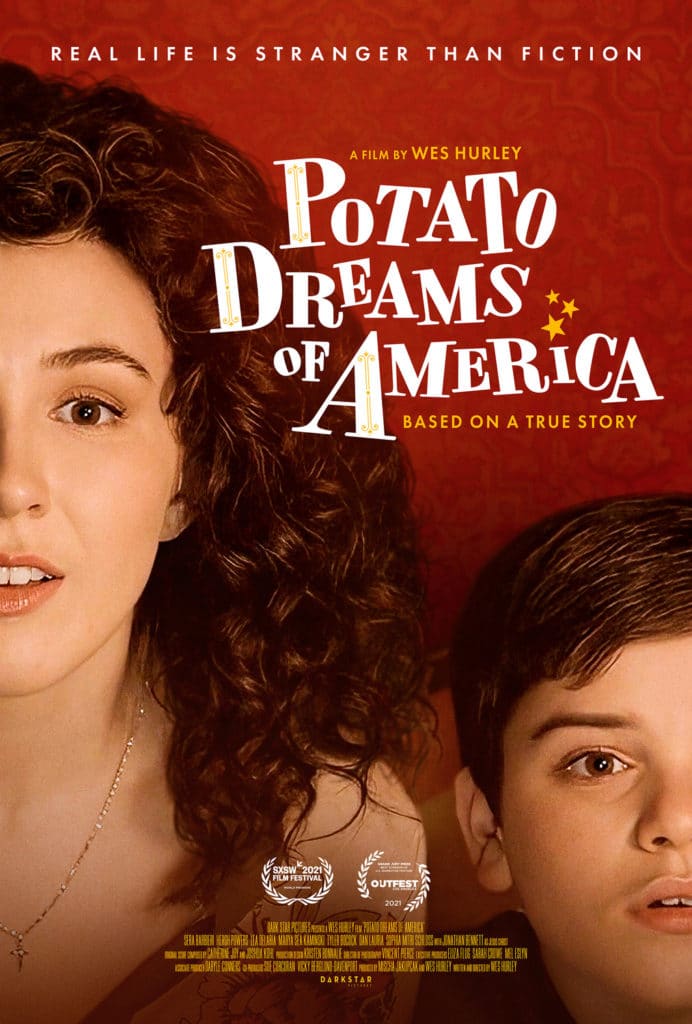 Potato Dreams of America is Dark Star Pictures' autobiographical dark comedy-drama written and directed by Wes Hurley's (Capitol Hill). The film's cast includes Lea DeLaria (Orange Is the New Black), Dan Lauria (The Spirit), Jonathan Bennett (Mean Girls), Sophia Mitri Schloss (Big Shot), Marya Sea Kaminski (Waxie Moon in Fallen Jewel), Sera Barbieri (Three Busy Debras), Tyler Bocock, Hersh Powers, Cynthia Lauren Tewes, Lady Rizo, James Grixoni (Twin Peaks), and Alycia Delmore (Take Me).
Synopsis: This coming-of-age story based on true events follows a queer boy growing up in the collapsing USSR, his courageous mail-order bride mother, and their adventurous escape to America. Full of unexpected twists, the film is an immigrant's take on the American Dream and the power of cinema, proving that life is often stranger than fiction.
Potato Dreams of America had its premiere at 2021's South by Southwest Film Festival (SXSW) where it was received positively. It holds a 79% RT score based on 24 reviews. The film had a limited theatrical release on January 14, 2022, and now it will be released digitally through VOD.
Potato Dreams of America VOD release date: February 22, 2022
A Madea Homecoming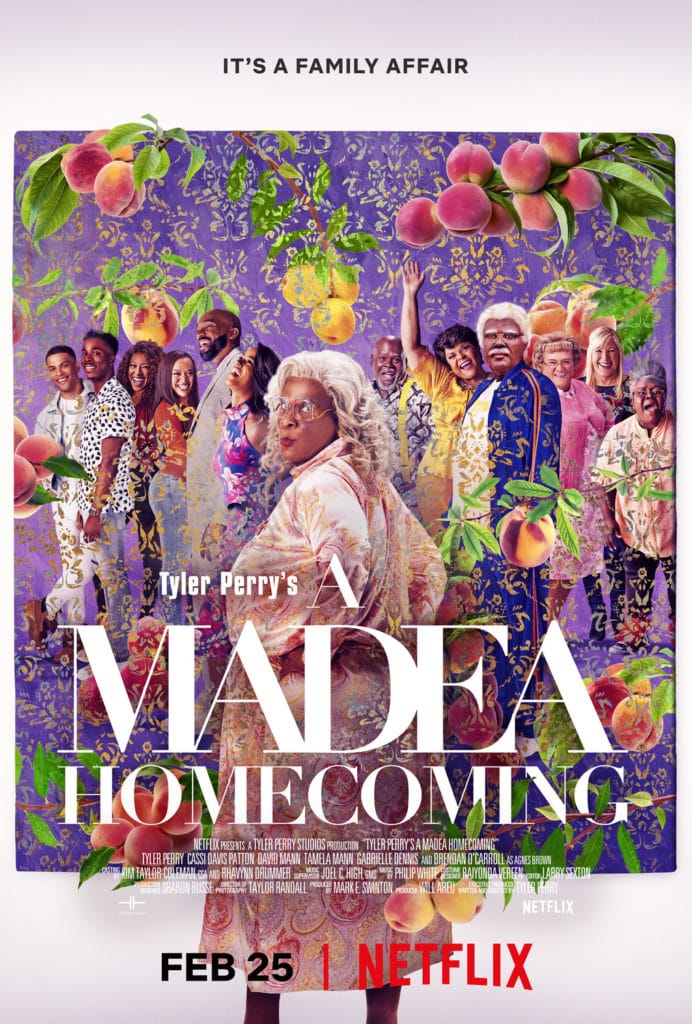 A Madea Homecoming is Netflix's original comedy film produced, written, and directed by Tyler Perry and his second to be released by Netflix. It is the twelfth film in the Madea cinematic universe and the plot follows Madea's great-grandson college graduation party. It is adapted from Perry's stage play Madea's Farewell, the first Madea film to be adapted from a stage play since A Madea Christmas.
It stars Tyler Perry, Cassi Davis-Patton, David Mann, Tamela Mann, Gabrielle Dennis, Brandon Black, Isha Blakker, Genva Maccarone, Amani Atkinson, Candace Maxwell, Brendan O'Carroll, and Jennifer Gibney.
Synopsis: Madea's back — hallelujer! Tyler Perry returns with everyone's favorite character in TYLER PERRY'S A MADEA HOMECOMING. Writer-director-producer Perry stars in the film that centers around Madea's great-grandson's college graduation, though the celebratory moment hits a halt as hidden secrets and family drama threaten to destroy the happy homecoming.
A Madea Homecoming Netflix release date: February 25, 2022
Big Gold Brick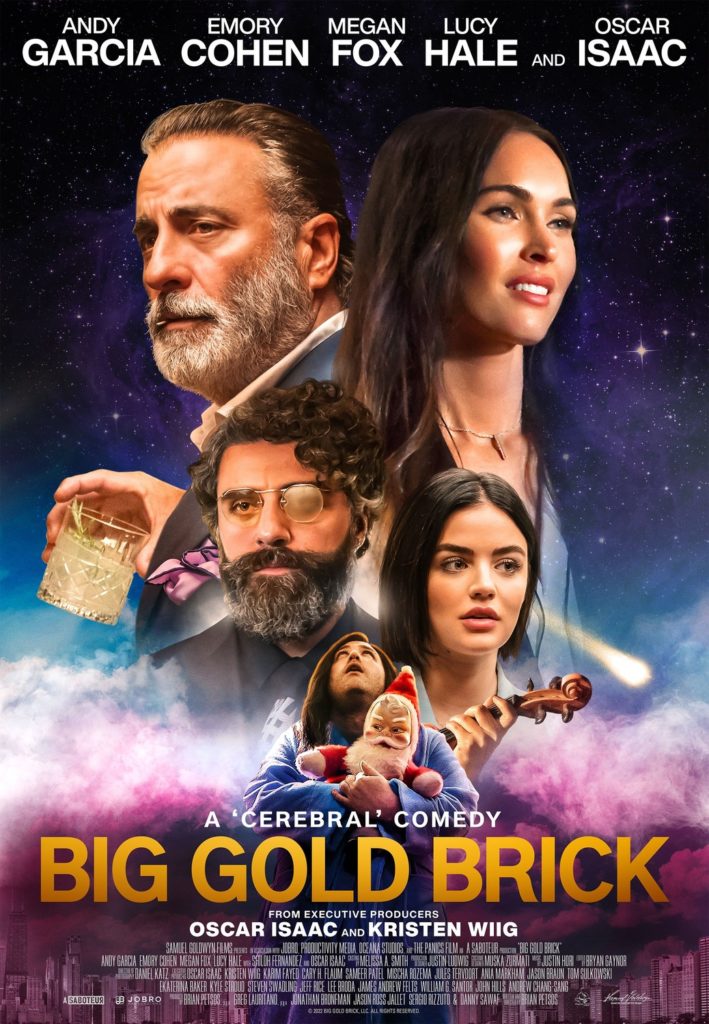 Big Gold Brick is Samuel Goldwyn Films' dark comedy fantasy drama written and directed by Brian Petsos, in his directorial debut. It stars Emory Cohen, Andy Garcia, Megan Fox, Lucy Hale, Oscar Isaac, Shiloh Fernandez, and Frederick Schmidt. The film is scheduled to be released in limited theatres as well as through VOD.
Synopsis: Big Gold Brick recounts the story of fledgling writer Samuel Liston (Cohen) and his experiences with Floyd Deveraux (Garcia), the enigmatic middle-aged father of two who enlists Samuel to write his biography. But the circumstances that lead up to this arrangement in the first place are quite astonishing–and efforts to write the biography are quickly stymied by ensuing chaos in this darkly comedic, genre-bending film.
Big Gold Brick (VOD & limited theatres) release date: February 25, 2022
Desperate Riders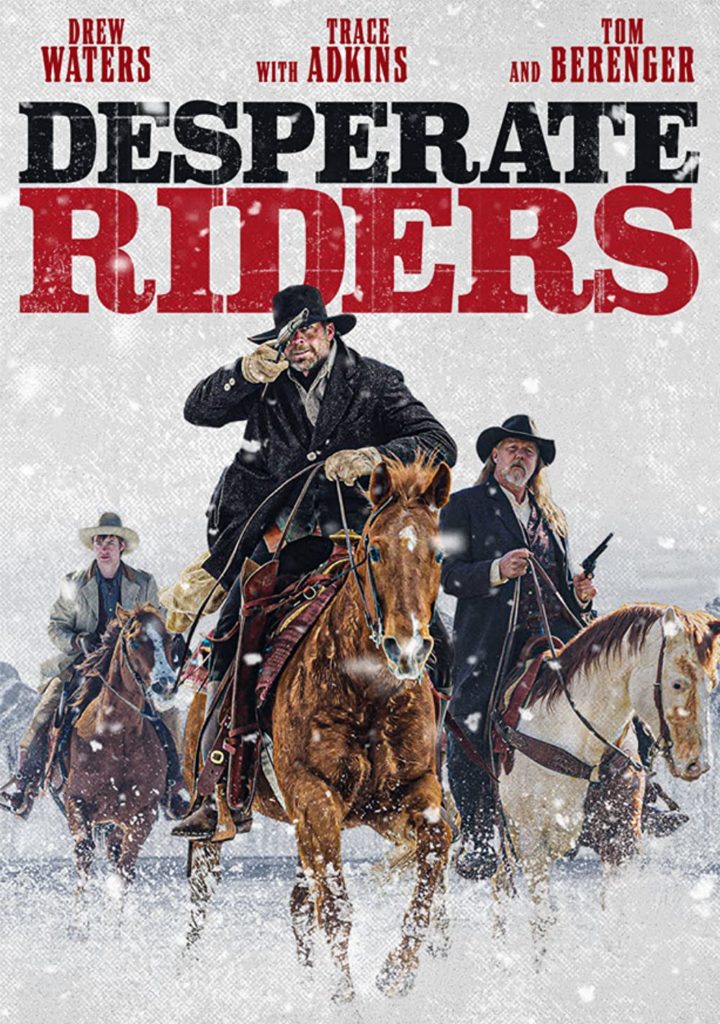 Desperate Riders is Lionsgate's western action flick directed by Michael Feifer and written by Lee Martin. It stars Drew Waters, Trace Adkins, Vanessa Evigan, Tom Berenger, Sam Ashby, Victoria Pratt, Rob Mayes, Peter Sherayko, Erin Bethea, and Cowboy Troy. The film is scheduled to be released in limited theatres as well as through VOD.
Synopsis: In this Western, the action begins as Kansas Red (Waters) rescues young Billy (Ashby) from a card-game shootout. The boy asks Red for help protecting his family from the outlaw Thorn (Adkins), who's just kidnapped Billy's mother, Carol (Pratt). As Red and Billy ride off to rescue Carol, they run into beautiful, tough-as-nails Leslie (Evigan), who's managed to escape Thorn's men. The three-race to stop Thorn's wedding to Carol with guns a-blazing — but does she want to be rescued?
Desperate Riders (VOD & limited theatres) release date: February 25, 2022
Gasoline Alley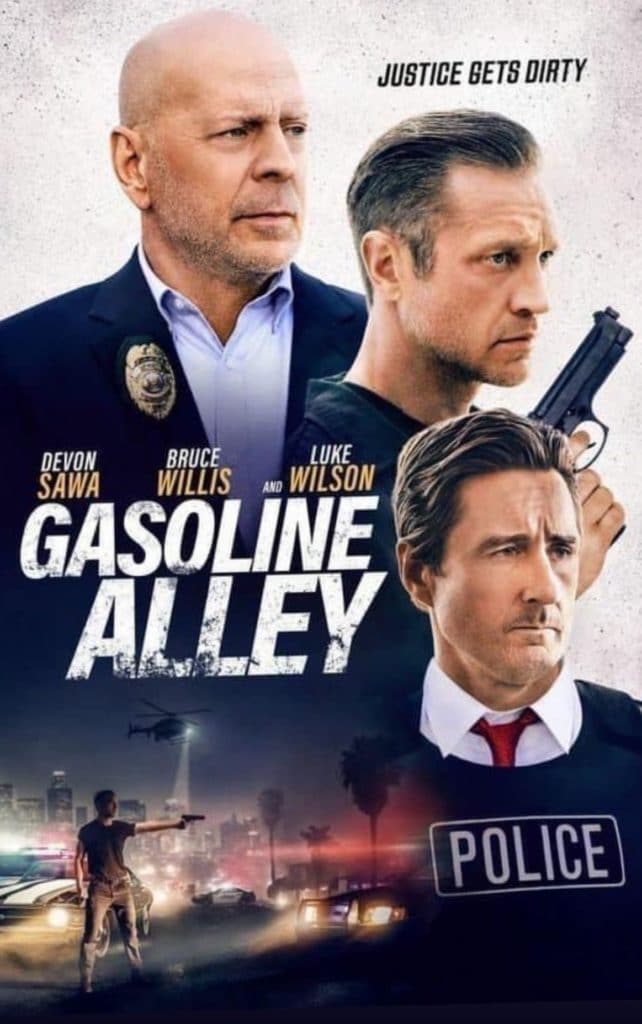 Gasoline Alley is Saban Films' action thriller directed by Edward John Drake and written by Drake and Tom Sierchio. It stars Devon Sawa, Bruce Willis, Luke Wilson, Kat Foster, Sufe Bradshaw, Johnny Dowers, Rick Salomon, Irina Antonenko, and Vernon Davis.
Synopsis: In this chilling story of a savage Hollywood murder set in present-day Los Angeles. Jimmy Jayne (Sawa), a reformed ex-con, is the prime suspect who will stop at nothing to prove his innocence. Homicide detectives Freeman (Willis) and Vargas (Wilson) are close on his tail as Jimmy takes on his own investigation, risking his life in the dark underbelly of L.A.
Drake and Willis have been teaming up quite often recently. John Drake directed Cosmic Sin (2021), American Siege (2021), Apex (2021) which starred Willis and they are teaming once again for Gasoline Alley. Willis is well known for his action films, he makes a bunch of direct-to-video action films every year. The R-rated action flick is scheduled for a limited theatrical release and a simultaneous on-demand release.
Gasoline Alley (VOD & limited theatres) release date: February 25, 2022
No Exit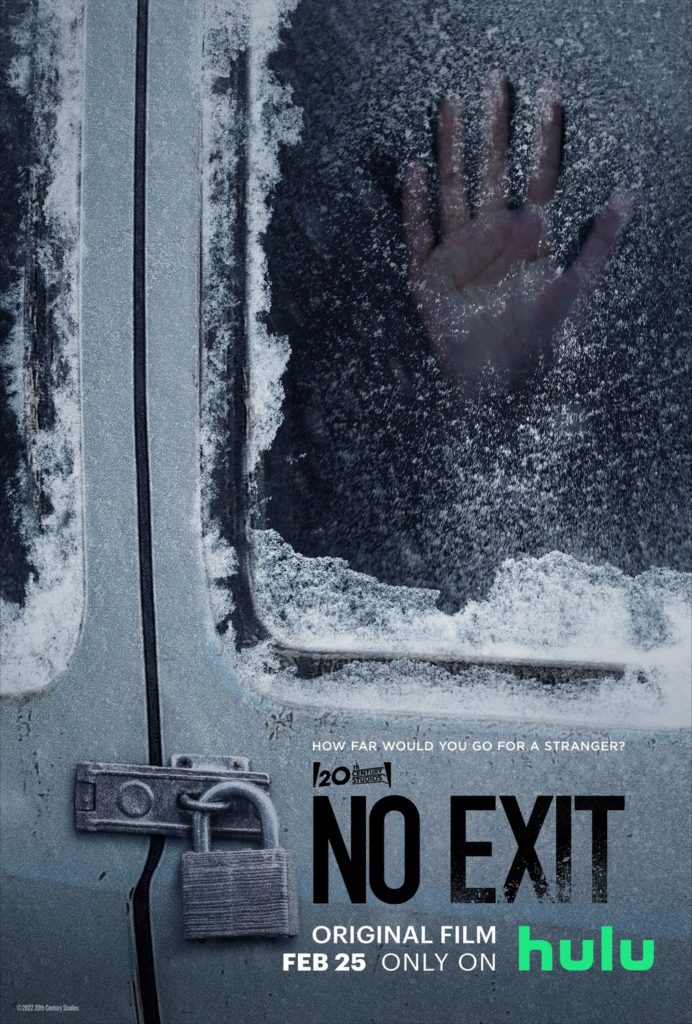 No Exit is Hulu's original horror mystery-thriller drama directed by Damien Power from a screenplay by Andrew Barrer and Gabriel Ferrari, based on the 2017 novel of the same name by Taylor Adams. Produced by 20th Century Studios, the R-rated film is set to be released on Hulu. It has an intriguing premise. This is a must-watch film.
The film stars Havana Rose Liu (Mayday) in her feature film leading role debut, Danny Ramirez, Dennis Haysbert, David Rysdahl, Dale Dickey, Mila Harris, Benedict Wall, and Kirsty Hamilton.
Synopsis: A college student, Darby (Rose Liu), on her way home from visiting her mother, gets stuck with a group of strangers at a mountain rest stop during a blizzard. Things take a turn for the worse when the young woman discovers a kidnapped little girl (Harris) in a van in the parking lot, belonging to one of the people inside, putting the group in a terrifying life-or-death situation as they struggle to escape while trying to discover who among them is the kidnapper.
No Exit Hulu release date: February 25, 2022
Which new movies in February 2022 are you most excited about? Which movies will you be seeing during the month of February? Let us know in the comments below or on our social media and be sure to come back to The Illuminerdi for more movie news!
KEEP READING: REBEL MOON: ZACK SNYDER REVEALS STAR-STUDDED CAST FOR HIS NEW NETFLIX SPACE EPIC