The Night House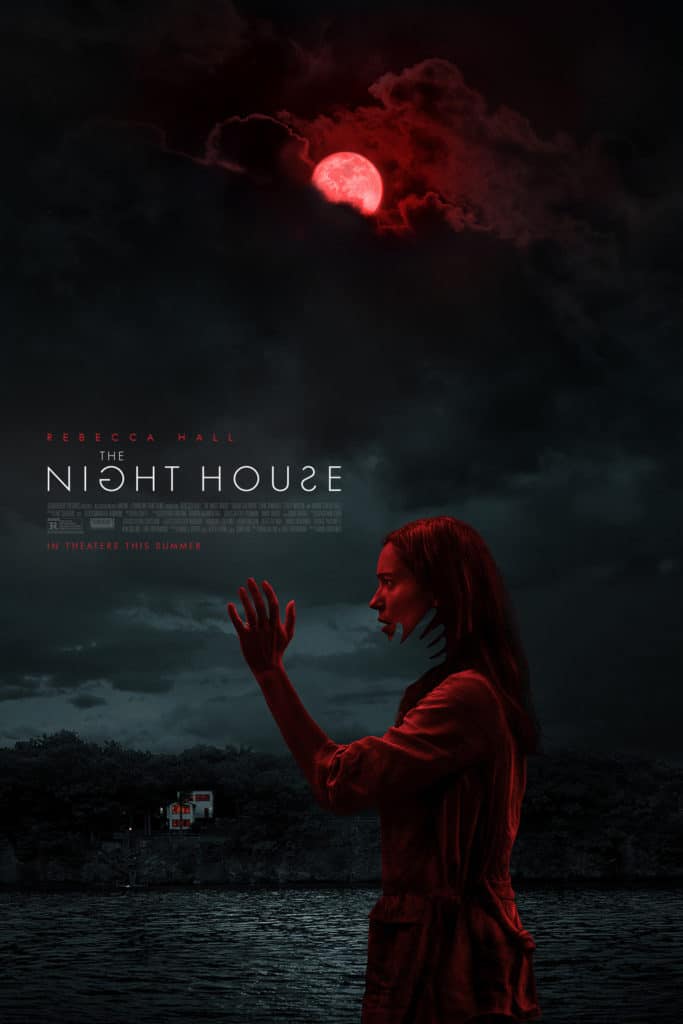 The Night House is Searchlight Pictures' psychological horror thriller film, directed by David Bruckner (The Ritual, Southbound), based on an original screenplay by Ben Collins and Luke Piotrowski. It had its world premiere at the Sundance Film Festival on January 24, 2020.
It stars Rebecca Hall (Godzilla vs. Kong, Iron Man 3, The Prestige), Sarah Goldberg (Barry), Evan Jonigkeit (Sweetbitter), Stacy Martin (Vox Lux), Christina Jackson (The Good Fight), and Vondie Curtis-Hall (Daredevil, Harriet).
Synopsis: Reeling from the unexpected death of her husband, Beth (Hall) is left alone in the lakeside home he built for her. She tries as best she can to keep together—but then the dreams come. Disturbing visions of a presence in the house call to her, beckoning with a ghostly allure, but the harsh light of day washes away any proof of a haunting. Against the advice of her friends, she begins digging into her husband's belongings, yearning for answers. What she finds are secrets both strange and disturbing—a mystery she's determined to resolve.
The R-rated film so far holds an 88% RT score based on 24 reviews with praise for the director, lead star, and its atmospheric horror vibes and was called an overall great horror film by critics. The Night House is scheduled to have a limited theatrical release. This is an entertaining-enough scary film that brings the perfect horror mood effectively, so this makes it a must-watch film for horror genre fans.
The Night House release date: August 20, 2021
Sweet Girl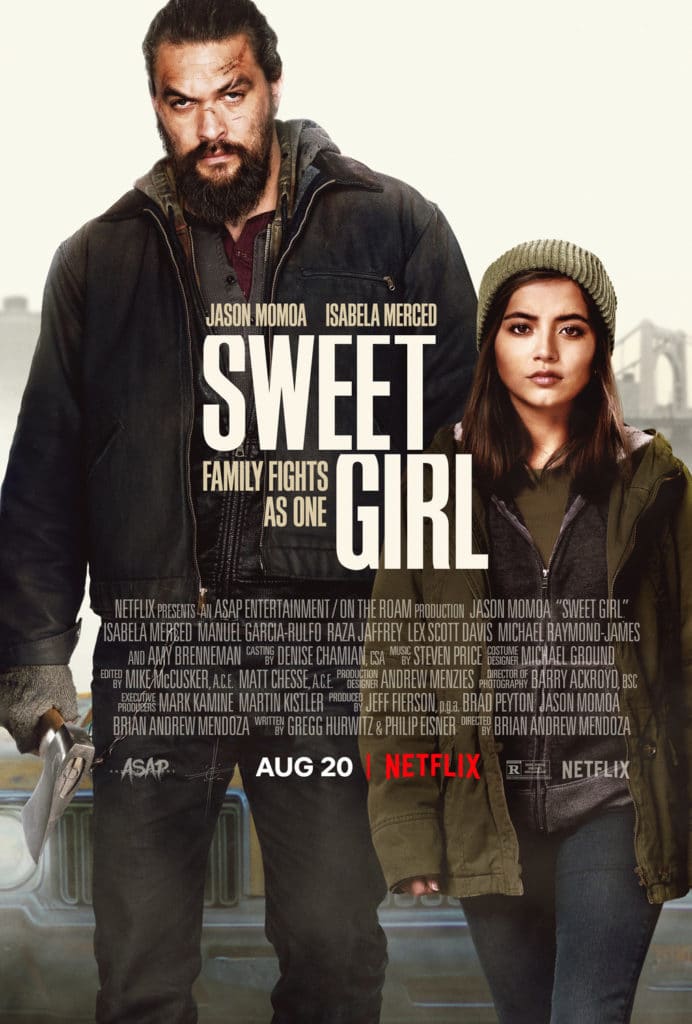 Sweet Girl is Netflix's original action thriller directed by Brian Andrew Mendoza in his feature directorial debut and written by Philip Eisner, Gregg Hurwitz, and Will Staples. The R-rated film looks to be an entertaining action flick.
It stars Jason Momoa (Aquaman, See, Frontier), Isabela Merced (Instant Family, Transformers 5, Dora and the Lost City of Gold), Manuel Garcia-Rulfo (Murder on the Orient Express, Sicario 2), Raza Jaffrey (Lost in Space), Lex Scott Davis (The First Purge), Michael Raymond-James (True Blood), Adria Arjona (6 Underground, Triple Frontier), Justin Bartha (The Hangover trilogy, National Treasure 1 & 2), and Amy Brenneman (Goliath).
Synopsis: Devoted family man Ray Cooper (Momoa), vows justice against the pharmaceutical company responsible for pulling a potentially life-saving drug from the market just before his wife (Arjona) dies from cancer. But when his search for the truth leads to a deadly encounter that puts Ray and his daughter Rachel (Merced) in harm's way, Ray's mission turns into a quest for vengeance in order to protect the only family he has left.
Sweet Girl Netflix release date: August 20, 2021
Annette
Annette is a romantic musical drama directed by Leos Carax (Holy Motors, Bad Blood), in his English-language debut, and with a screenplay by Ron Mael and Russell Mael of "Sparks" band, and Carax, from an original story, music, and songs by the band. Sparks is involved in two 2021 film releases, as screenwriters and composers for this musical film, directed by Carax, and in "The Sparks Brothers", a documentary about their career directed by Edgar Wright which was theatrically released in June.
Annette stars Adam Driver (Marriage Story, Star Wars: Episode-VII, VIII, IX), Marion Cotillard (Inception, The Dark Knight Rises), Simon Helberg (The Big Bang Theory), Rebecca Dyson-Smith (The Queen's Gambit), and Devyn McDowell. Leos Carax, Ron Mael, and Russell Mael will also appear.
Synopsis: Los Angeles, today. Henry (Driver) is a stand-up comedian with a fierce sense of humor who falls in love with Ann (Cotillard), a world-renowned opera singer. Under the spotlight, they form a passionate and glamorous couple. With the birth of their first child, Annette, a mysterious little girl with an exceptional destiny, their lives are turned upside down.
Annette was released in France on 7 July 2021 by UGC Distribution, a day after premiering as the opening film at the 2021 Cannes Film Festival. The film has received positive reviews from critics. Carax won Best Director and Ron and Russell Mael won Best Composer at the festival.
The R-rated movie so far holds an 84% RT score based on 49 reviews with praise for its lead stars and music. It is scheduled to be released in the US in a limited release on 6 August 2021 prior to digital streaming on Amazon Prime Video.
Annette Amazon release date: August 20, 2021
Paw Patrol: The Movie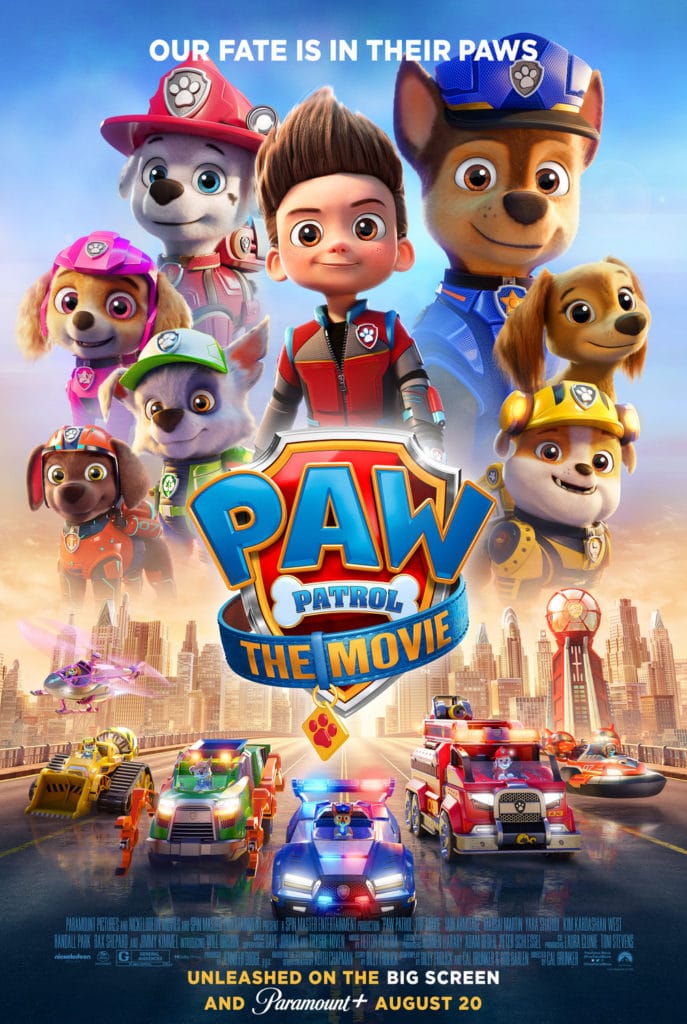 Paw Patrol: The Movie is Paramount Pictures' computer-animated family adventure comedy film based on the television series PAW Patrol. The film is produced by Spin Master, the toy company behind the original series, with animation provided by Mikros Image. It is directed by Cal Brunker (Escape from Planet Earth), from a screenplay by Billy Frolick, Brunker, and Bob Barlen, and produced by Jennifer Dodge. It is the first film adaptation of the PAW Patrol series.
The voice cast includes Kingsley Marshall, Keegan Hedley, Shayle Simons, Lilly Bartlam, and Ron Pardo reprising their respective PAW Patrol roles, while they will be joined by newcomers Iain Armitage (Young Sheldon), Marsai Martin (Black-ish), Yara Shahidi, Kim Kardashian, Randall Park (WandaVision), Dax Shepard (Hit and Run), Tyler Perry (Vice), Jimmy Kimmel (The Boss Baby 1 & 2), and Will Brisbin.
Synopsis: When the PAW Patrol's biggest rival, Mayor Humdinger, becomes Mayor of nearby Adventure City and starts wreaking havoc, Ryder and everyone's favorite heroic pups kick into high gear to face the challenge head-on. While one of the pups must face his past in Adventure City, the team finds help from a new ally, the savvy dachshund Liberty. Together, armed with exciting new gadgets and gear, the PAW Patrol fights to save the citizens of Adventure City and stop Mayor Humdinger from destroying the bustling metropolis.
The film is scheduled to be theatrically released in the UK on August 9, and in the US on August 20, by Paramount Pictures. It will also be available to stream on Paramount+ on the same day it releases in theaters at no additional cost to subscribers.
Paw Patrol: The Movie (Paramount+ & theatrical) release date: August 20, 2021
The Protégé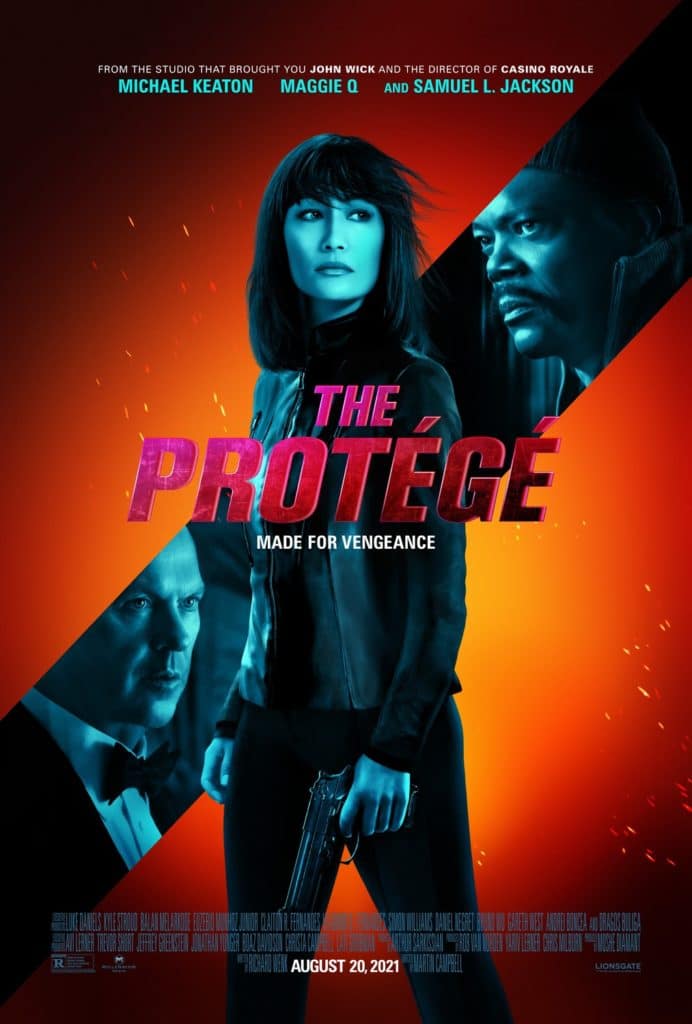 The Protégé is Lionsgate's action thriller film directed by Martin Campbell (Casino Royale, Green Lantern, The Foreigner) and written by Richard Wenk. It is scheduled to have a wide release in theatres. Campbell is known for his action films and on top of that this film has a great cast so this is a must-watch for action lovers.
The R-rated film stars Maggie Q (Divergent series, Nikita), Michael Keaton (Birdman, Spider-Man: Homecoming), Samuel L. Jackson (The Hateful Eight, Avengers, Kong), Patrick Malahide (Luther), Ori Pfeffer (Hacksaw Ridge), Ray Fearon (Beauty and the Beast), Caroline Loncq (Affinity), and Robert Patrick (Terminator 2, Perry Mason).
Synopsis: Rescued as a child by the legendary assassin Moody (Jackson) and trained in the family business, Anna (Q) is the world's most skilled contract killer. But when Moody — the man who was like a father to her and taught her everything she needs to know about trust and survival — is brutally killed, Anna vows revenge. Anna must return to Vietnam to track down his killer, and, in the process, she must form an uneasy alliance with a mysterious figure from her past, Rembrandt (Keaton), whose attraction to her goes way beyond cat and mouse, their confrontation turns deadly and the loose ends of a life spent killing will weave themselves ever tighter.
The Protégé release date: August 20, 2021
The Witcher: Nightmare of the Wolf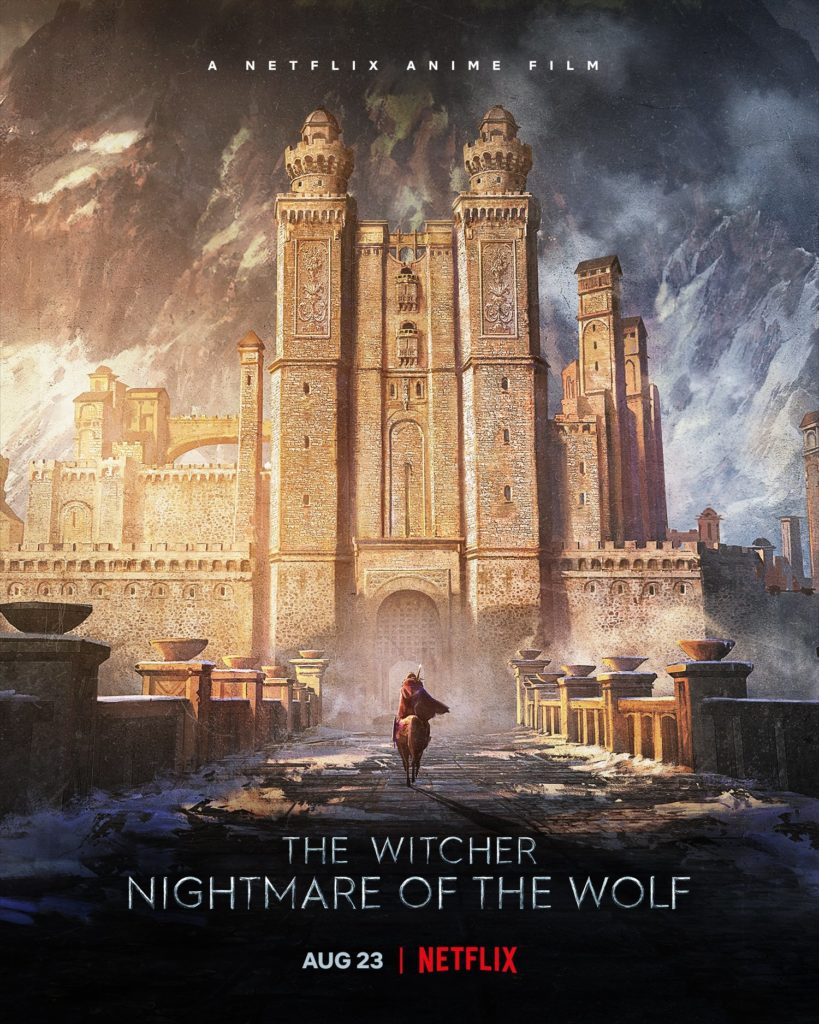 The Witcher: Nightmare of the Wolf is Netflix's original 2D animated dark action-adventure fantasy film produced by Lauren Schmidt Hissrich. The film serves as a spin-off of the Netflix live-action series The Witcher starring Henry Cavill. It is directed by Kwang-Il Han (The Boondocks) from a screenplay by Beau DeMayo based on "The Witcher" book series by Andrzej Sapkowski.
This film focuses on the origin story of Geralt's mentor and fellow witcher Vesemir. Fans who have read The Witcher novels or played video games will be familiar with the character Vesemir. But this film's story is new. This film is a must-watch for The Witcher franchise fans.
It features the voices of Theo James (Castlevania, Divergent series), Lara Pulver (Sherlock, Da Vinci's Demons), Graham McTavish (The Hobbit trilogy, The Witcher, Lucifer), and Mary McDonnell (Rebel, Battlestar Galactica).
Synopsis: The world of The Witcher expands in this anime origin story: Before Geralt, there was his mentor Vesemir — a swashbuckling young witcher who escaped a life of poverty to slay monsters for coin. But when a strange new monster begins terrorizing a politically fraught kingdom, Vesemir finds himself on a frightening adventure that forces him to confront the demons of his past.
The Witcher: Nightmare of the Wolf Netflix release date: August 23, 2021
Candyman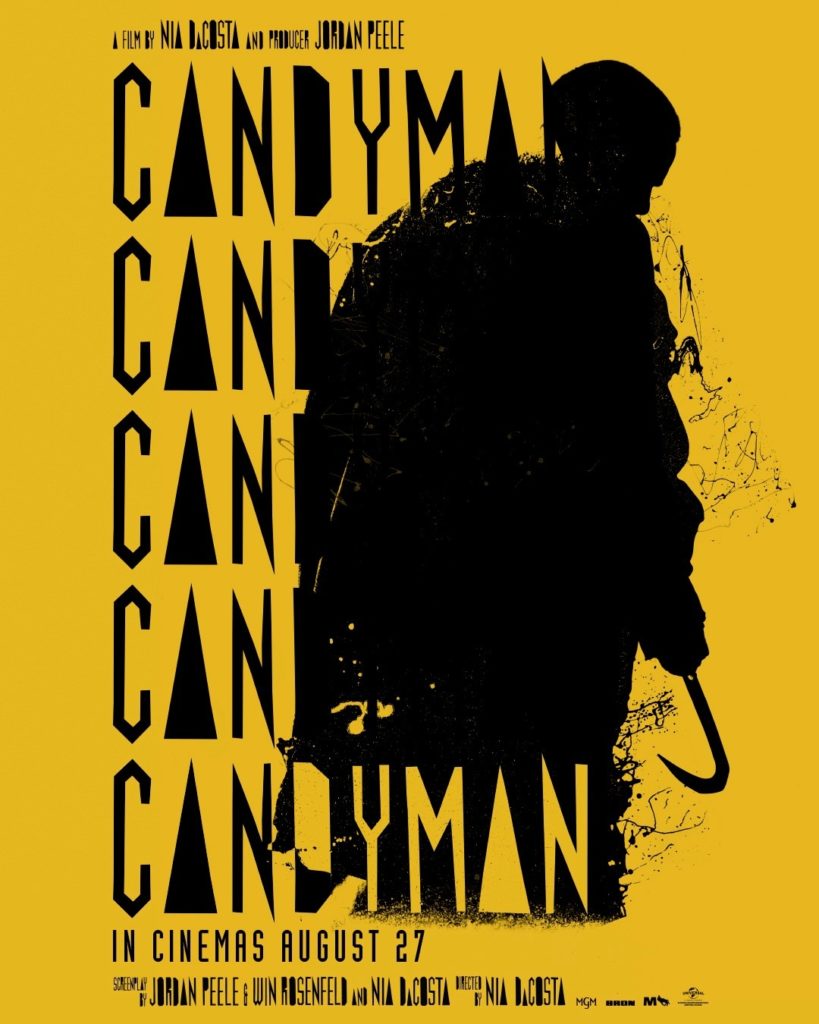 Candyman is Universal Pictures' supernatural slasher flick directed by Nia DaCosta (Little Woods) and written by Jordan Peele (Get Out, Us), Win Rosenfeld (The Twilight Zone), and DaCosta. It is produced by Ian Cooper (Us), Rosenfeld, and Peele. It is a direct sequel to the 1992 classic film of the same name and the fourth film in the Candyman film series, based on the short story "The Forbidden" by Clive Barker. The film will also feature puppetry animation sequences which were created by Manual Cinema.
The film features Yahya Abdul-Mateen II (HBO's Watchmen, Aquaman, The Trial of the Chicago 7), Teyonah Parris (If Beale Street Could Talk, WandaVision), Nathan Stewart-Jarrett (Four Weddings and a Funeral), Rebecca Spence (Contagion), and Colman Domingo (Euphoria, Assassination Nation). Vanessa Estelle Williams reprises her role from the original film while Tony Todd returns as the title character which he played in the previous three installments.
Synopsis: For as long as residents can remember, the housing projects of Chicago's Cabrini Green neighborhood were terrorized by a word-of-mouth ghost story about a supernatural killer with a hook for a hand, easily summoned by those daring to repeat his name five times into a mirror. In the present day, a decade after the last of the Cabrini towers were torn down, visual artist Anthony McCoy (Abdul-Mateen II) and his girlfriend, gallery director Brianna Cartwright (Parris), move into a luxury loft condo in Cabrini, now gentrified beyond recognition and inhabited by upwardly mobile millennials.
With Anthony's painting career on the brink of stalling, a chance encounter with a Cabrini Green old-timer (Domingo) exposes Anthony to the tragically horrific nature of the true story behind Candyman. Anxious to maintain his status in the Chicago art world, Anthony begins to explore these macabre details in his studio as fresh grist for paintings, unknowingly opening a door to a complex past that unravels his own sanity and unleashes a terrifyingly viral wave of violence that puts him on a collision course with destiny.
This film was supposed to come out in June 2020, but due to the pandemic, it got delayed to 2021. After a long wait, the horror film is finally arriving this month. This is one of the highly anticipated horror films of this year. The trailers for this looked very promising. The R-rated horror thriller is scheduled for a wide theatrical release. This is a must-watch film for all horror genre fans.
RELATED: CANDYMAN: WATCH THE NEW TRAILER FOR THE LONG AWAITED HORROR REBOOT
Candyman release date: August 27, 2021
Vacation Friends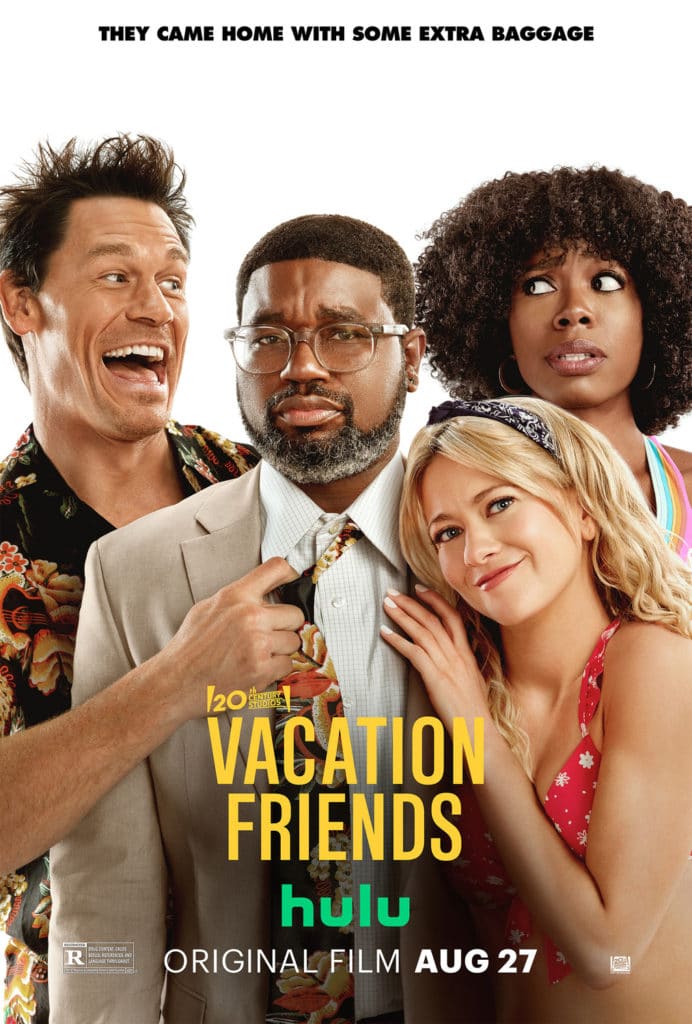 Vacation Friends is 20th Century Studios' comedy film directed by Clay Tarver, who co-wrote the screenplay with Tom Mullen, Tim Mullen, Jonathan Goldstein, and John Francis Daley. The film will release on Hulu on August 27 in the US, and on the Star content hub of Disney+ and Star+ on August 31 in select international territories, and Disney+ Hotstar will release the film in India on August 27 and in select territories on September 3.
The R-rated comedy stars John Cena (F9, Bumblebee), Lil Rel Howery (Bad Trip, Get Out), Yvonne Orji (Insecure), Meredith Hagner (Search Party, Palm Springs), Robert Wisdom (Helstrom), Lynn Whitfield (Greenleaf), and Andrew Bachelor (The Babysitter 1 & 2).
Synopsis: In this raw and raunchy comedy, straight-laced Marcus (Howery) and Emily (Orji) are befriended by wild, thrill-seeking partiers Ron (Cena) and Kyla (Hagner) at a resort in Mexico. Living in the moment, the usually level-headed couple lets loose to enjoy a week of uninhibited fun and debauchery with their new "vacation friends." Months after their walk on the wild side, Marcus and Emily are horrified when Ron and Kyla show up uninvited at their wedding, creating chaos and proving that what happens on vacation, doesn't necessarily stay on vacation.
Vacation Friends Hulu release date: August 27, 2021
Mortal Kombat Legends: Battle of the Realms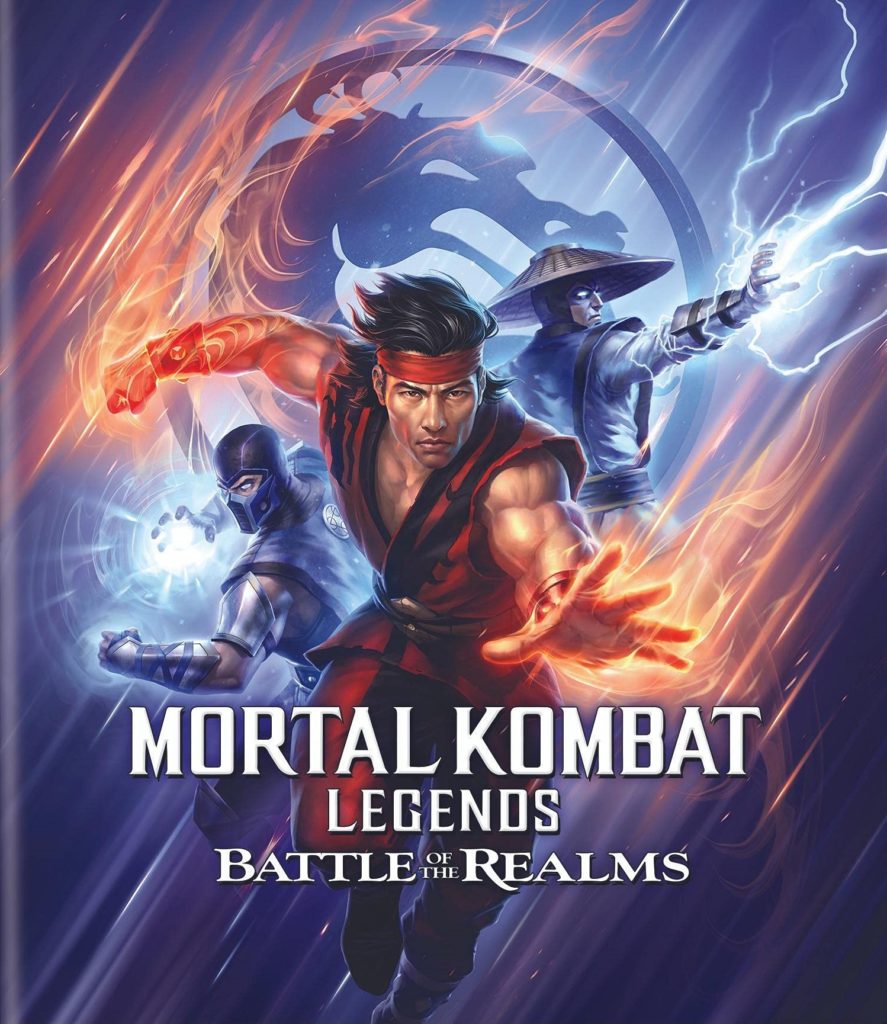 Mortal Kombat Legends: Battle of the Realms is Warner Bros. Animation's direct-to-video adult animated martial arts film based on the Mortal Kombat franchise created by Ed Boon and John Tobias. It is a direct sequel to the 2020 film Mortal Kombat Legends: Scorpion's Revenge directed by Ethan Spaulding (Avatar: The Last Airbender, Scooby-Doo: Return to Zombie Island) and written by Jeremy Adams.
Scorpion's Revenge marks the first Mortal Kombat based property to be produced at Warner Bros. Animation and the first Mortal Kombat animated project since 1996. Spaulding and Adams returned for the sequel including the cast.
The R-rated movie features Joel McHale as Johnny Cage, Jennifer Carpenter as Sonya Blade, Jordan Rodrigues as Liu Kang, Patrick Seitz as Scorpion, Artt Butler as Shang Tsung, Darin De Paul as Quan Chi, Robin Atkin Downes as Shinnok & Reiko, Dave B. Mitchell as Raiden, Ike Amadi as Jax Briggs & One Being, Kevin Michael Richardson as Goro, Grey Griffin as Kitana & Mileena, Matthew Mercer – Stryker & Smoke, Bayardo De Murguia – Sub-Zero, Paul Nakauchi – Lin Kuei Grandmaster, Matthew Yang King – Kung Lao, Emily O'Brien – Jade, Debra Wilson – D'Vorah, and Fred Tatasciore as Shao Kahn.
Synopsis: The movie picks up shortly after the explosive finale of Mortal Kombat Legends: Scorpion's Revenge. In Battle of the Realms, our team of heroes are besieged by the enemy forces of Shao Kahn – forcing Raiden and his group of warriors into a deal to compete in a final Mortal Kombat that will determine the fate of the realms. Now our heroes must travel to Outworld in order to defend Earthrealm and, simultaneously, Scorpion must find the ancient Kamidogu (a mystic relic made by the almighty Elder Gods) before it's used to resurrect the mysterious One Being – which would mean certain destruction of all things in the universe. Time is short and the stakes are high in this action-packed continuation of the Mortal Kombat journey.
Scorpion's Revenge film holds a 90% RT critic rating based on 21 reviews while the audience score is 86% meaning it was received well by the franchise fans. Mortal Kombat Legends: Battle of the Realms is scheduled to be released digitally, and on Blu-ray and DVD on August 31.
Mortal Kombat Legends: Battle of the Realms VOD release date: August 31, 2021
Which August movies are you most excited about? Which movies will you be seeing during the month of August? Let us know in the comments below or on our social media and be sure to come back to The Illuminerdi for more movie news!