Further Into The Plot of Are You OK?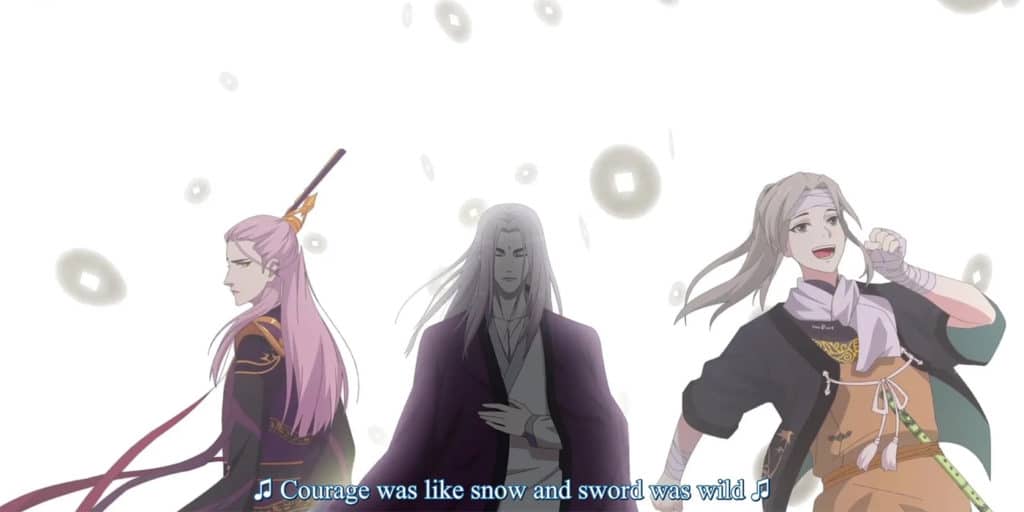 Today, the imperial court is soliciting traversals, giving them various positions according to their talents, changing the civilization after the fall, and trying to create a new world. Zuo Yunqi is just an ordinary young master, mixed with the court in disguise as a spy to save his father.
However, he was recognized by one hired specifically to spot such spies, and the two engaged in an epic battle of wits. When the two jointly prevented a terrifying conspiracy, they found that the traversals secretly established an alliance to try to overthrow those in power and build a new society of peaceful coexistence. Zuo Yunqi and his party were forced to participate in this battle.
Are You OK's lore about the 'travelers' is interesting, as its clear it has caused an imbalance to both society and the Factions at war between each other. Its also funny to see the effects of modern knowledge, and technology, improvised in historical China. Because of the era, it may remind fans of Dynasty Warriors, but that is due to the inspirations involved with Chinese culture.
The combat is also exactly what you'd hope for from a Chinese Fantasy fiction. There are abilities and attacks that have a cinematic vibe to the Kung Fu and general Martial arts that are seen. It may seem like there won't be much action but the fights do start appearing the further in to the show.
The location that the show is mainly set is the Best Tower, which is a combination of a Shopping mall mixed with a community landmark. The first 'travellers', Xuo Yungi, is the founder of the establishment and it was his knowledge of the modern world that made it possible to exist, in such a early period. As mentioned before, the technology is similar to that of the modern age, but comes with a simplistic twist due to material, and mechanical, limitations of the century.
The main character seems to be Xuo Yungi, who is very flamboyant, and is sometimes called 'Boss' due to being the owner of Best Tower. He is different compared to the Warrior General you see in the beginning of the first episode, who you see briefly after he dies in battle before he is inhabited by this specific 'Traveller'. His actions and the way he talks is generally comical, however, there is no denying that he is very intelligent and wise. This is seen in his duties for the Emperor to test people who say they are 'Travellers', which is so they can have a better life.
Instead of Xuo, the main character of Are You OK? is Yun Qi, a warrior/assassin who you first see being escorted to take the test for Travellers. Yun stands out most due to his serious and sane consideration of events, making him seem normal compared to the company surrounding him. However, he soon demonstrates how brilliant he is as a warrior and bodyguard.
Other characters in the series generally revolve around Xuo and they include Xuo's personal assistant, Xiao Xue, and Lin Kai, a great warrior from the Martial Arts Alliance. Both Xiao and Lin are even more laid back than Xuo and both have great skills and humorous traits. This includes Xiao carrying a huge carpet-like scroll that she uses for documentation.
With a duration of approximately 20 minutes, Are You OK? is one of few shows from China that has such a long duration compared to most Chinese anime. Chinese anime usually has a common runtime about 10 minutes per episode, unlike this series. This means anime fans get a lot more story and content in each episode, which is marvellous for viewers to enjoy.
Overall, this is one series that will easily charm anime fans in to watching. The best part is that each episode reveals more in to the complex nature of the story that begins to unfold. If you wish to watch Are You OK?, then use this link to begin watching on iQIYI.
What do you think of this concept? Is Are You OK? an anime you'll be watching? What would you do in the past as a 'traveler'? Let us know on social media or in the comments below, and keep following The Illuminerdi for another Anime Dive.
KEEP READING: WORLD OF FANTASY: AN EPIC, SPIRIT-POWERED CHINESE ANIME