Come Away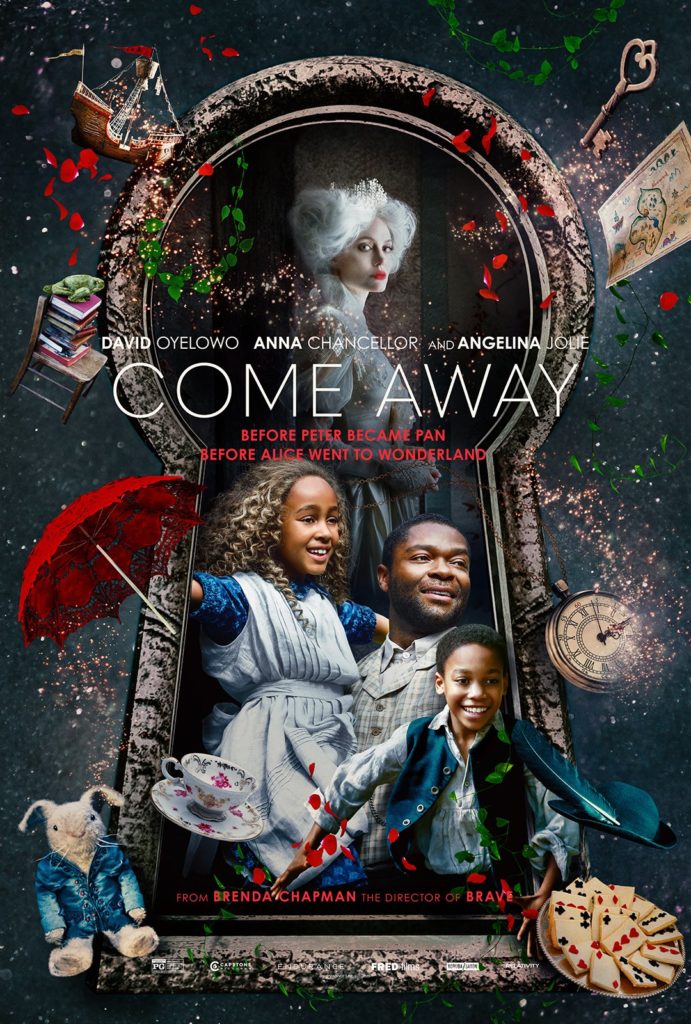 Come Away is a fantasy drama film directed by Brenda Chapman (Director of DreamWorks Animation's The Prince of Egypt, co-director of Pixar's Brave) in her live-action directorial debut and starring Angelina Jolie (Maleficent), David Oyelowo (Star Wars Rebels), Keira Chansa, Jordan A. Nash (Harlots), Anna Chancellor (Pennyworth), Clarke Peters (Da 5 Bloods), Gugu Mbatha-Raw (Misbehaviour), David Gyasi (Annihilation), Derek Jacobi (Gladiator), and Michael Caine (Tenet).
The film depicts the title characters of Alice in Wonderland and Peter Pan as siblings. Before Alice (Chansa) went to Wonderland, and before Peter (Nash) became Pan, they were brother and sister. When their eldest brother dies in a tragic accident, they each seek to save their parents from their downward spirals of despair until finally they are forced to choose between home and imagination, setting the stage for their iconic journeys into Wonderland and Neverland.
Brenda Chapman is the first woman to win the Academy Award for Best Animated Feature and this is her live-action debut. Come Away had its world premiere at the Sundance Film Festival on January 24, 2020, and is scheduled to be released in the US by Relativity Media and in the UK on December 4 by Signature Entertainment. The film holds a 57% RT score based on 14 reviews. As this is a combination of two IP's it includes familiar elements of both Alice in Wonderland and Peter Pan and takes the audience on a whimsical journey. This family fantasy drama will be released in limited theatres and on-demand.
Come Away VOD release date: November 13, 2020
Dating Amber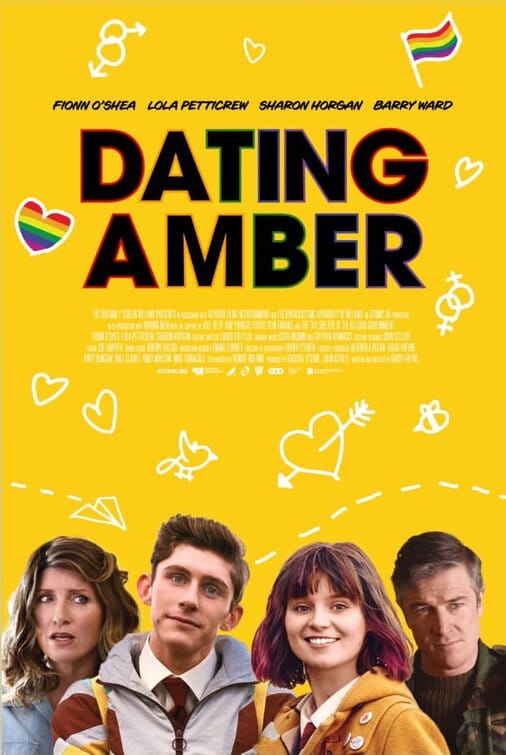 Dating Amber is an Irish comedy-drama film written and directed by David Freyne (The Cured). It stars Fionn O'Shea (Normal People), Lola Petticrew (Here Are the Young Men), Sharon Horgan (This Way Up), Barry Ward (Jimmy's Hall), Simone Kirby (His Dark Materials), Emma Willis (Overshadowed), and Lauryn Canny (Normal People).
The film features two closeted teenagers Eddie (O'Shea) and Amber (Petticrew) in 1990s Ireland who decide to start a fake relationship in order to stop everyone speculating about their sexuality. Eddie is keen to follow his dad into the military, while Amber dreams of moving to the liberal hub of London. The plan seems solid, but as their arrangement begins to fall apart, Eddie's denial gets deeper as Amber realizes that a perilous future awaits her best friend unless she intervenes.
It was released on Prime Video UK on 4 June 2020. The film holds a 96% RT score based on 23 reviews. Now Samuel Goldwyn Films will release this sweet charming dramedy about teen sexuality in North America digitally and on-demand.
Dating Amber VOD release date: November 13, 2020
The Nest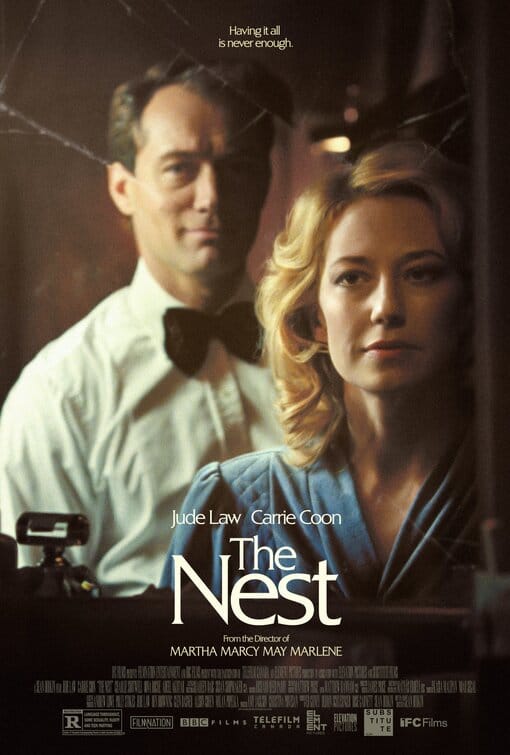 The Nest is IFC Films' thriller film written, directed, and produced by Sean Durkin (Martha Marcy May Marlene). It stars Jude Law (Fantastic Beasts: The Crimes of Grindelwald), Carrie Coon (Fargo), Charlie Shotwell (Eli), Oona Roche (The Morning Show), and Adeel Akhtar (Utopia).
Rory (Law) is an ambitious entrepreneur who brings his American wife (Coon) and kids to his native country, England, to explore new business opportunities. After abandoning the sanctuary of their safe American suburban surroundings, the family is plunged into the despair of an archaic '80s Britain and their unaffordable new life in an English manor house threatens to destroy the family.
It had its world premiere at the Sundance Film Festival on January 26, 2020, and was released in the United States and Canada on September 18. The film holds a 88% RT score based on 92 reviews with a lot of praise for the cast. Now The Nest is releasing through VOD.
The Nest VOD release date: November 17, 2020
Dreamland
Dreamland is Vertical Entertainment's drama thriller film, directed by Miles Joris-Peyrafitte (Gaslight) from a screenplay by Nicolaas Zwart. It stars Margot Robbie (Birds of Prey, I, Tonya), Finn Cole (Peaky Blinders), Garrett Hedlund (Tron: Legacy, Mudbound), Travis Fimmel (Raised by Wolves), Kerry Condon (Better Call Saul), Darby Camp (Big Little Lies), and Lola Kirke (Mozart in the Jungle), who narrates the film. Robbie will also serve as a producer on the film.
Amid the dust storms and economic depression of Dustbowl Era Oklahoma, Eugene Evans finds his family farm on the brink of foreclosure. His last bet to save the farm is the bounty on the head of the fugitive bank robber Allison Wells. The teen bounty hunter is torn between helping or capturing the seductive fugitive.
So far this R-rated film holds an 86% RT score based on 14 reviews. It had its world premiere at the Tribeca Film Festival on April 28, 2019. It is scheduled to be released in a limited release on November 13, 2020, followed by a video-on-demand release.
Dreamland VOD release date: November 17, 2020
Fatman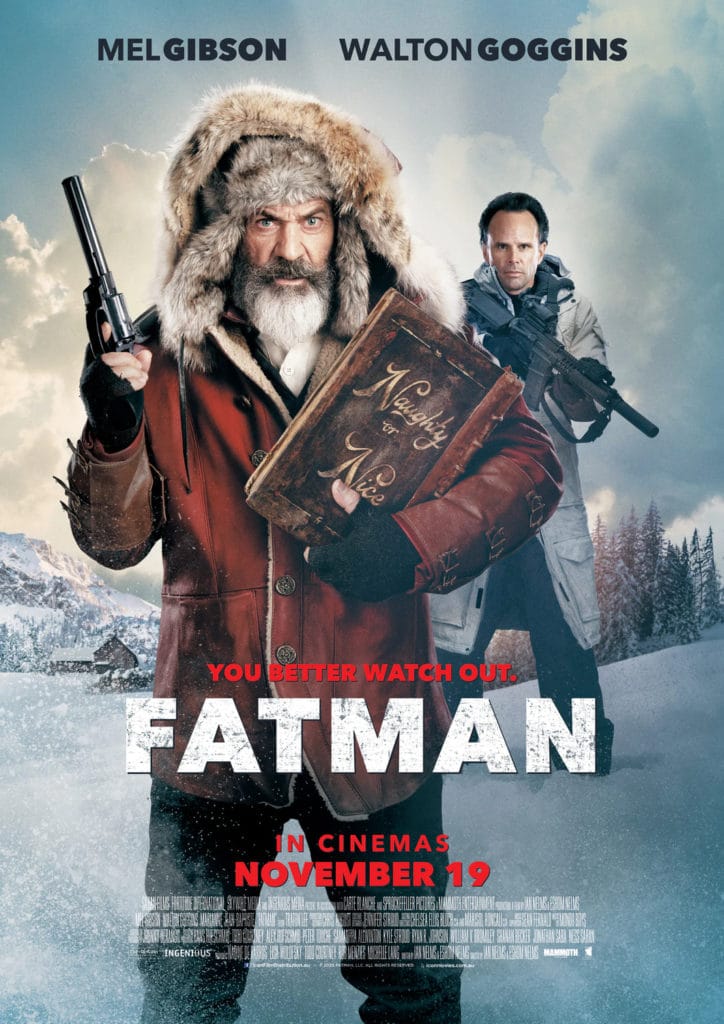 Fatman is Saban Films' dark comedy action film written and directed by directing duo Eshom Nelms and Ian Nelms (Small Town Crime) and starring Mel Gibson (Braveheart), Walton Goggins (Ant-Man and the Wasp), Chance Hurstfield (Good Boys), Robert Bockstael (Strike!), Shaun Benson (ARQ), and Marianne Jean-Baptiste (Edge of Tomorrow).
To save his declining business, Chris Cringle (Gibson), also known as Santa Claus, proves himself a worthy adversary as he is not so jolly or festively plump, and more so skilled in weaponry after being forced into a partnership with the U.S. military. Making matters worse, Chris gets locked into a deadly battle of wits against a highly-skilled assassin (Goggins), hired by a neglected and precocious 12-year-old named Billy (Hurstfield), after receiving a lump of coal in his stocking.
Mel Gibson playing a rowdy, gun-toting, unorthodox Santa Claus is the most ludicrous and crazy thing. The selling point of this film is its ridiculous and funny premise. The trailers of this seem very entertaining and funny. The absurd thing of the story is how oblivious and serious the characters, fight sequences, and tone of the film are. This Christmas action-comedy is scheduled to be released in the United States in select theaters on November 13 and a limited Australian release is set for November 19. Also it is scheduled for a digital release and this can be a fun watch.
Fatman VOD release date: November 17, 2020