Kindred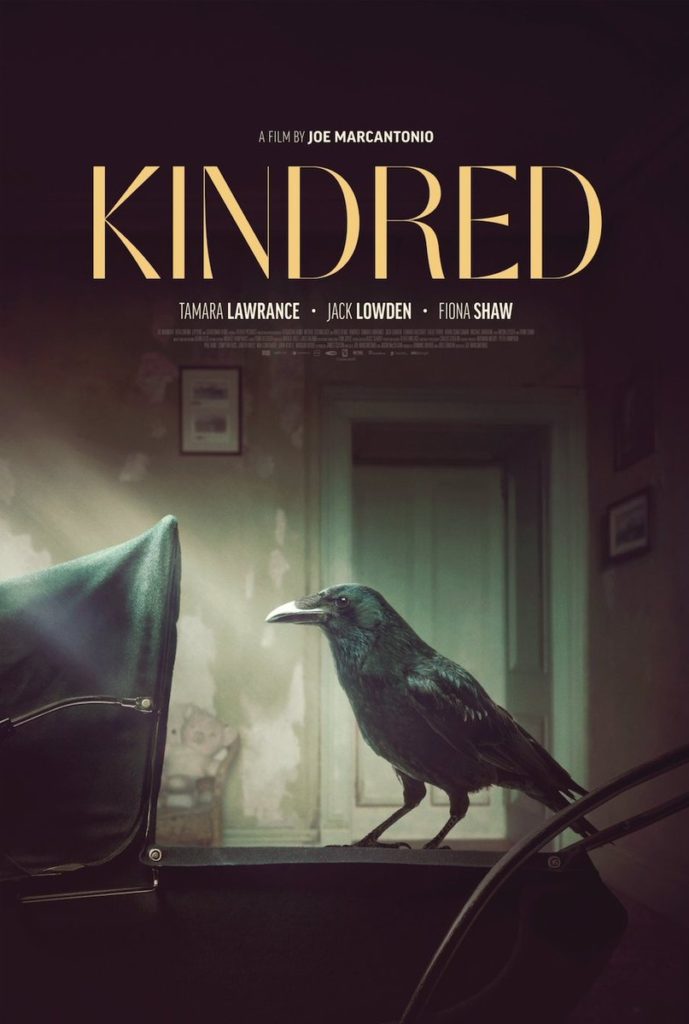 Kindred is IFC Midnight's psychological horror-thriller directed by Joe Marcantonio (Red Light) in his feature directorial debut, written by Marcantonio and Jason McColgan. Starring Fiona Shaw (Killing Eve, Harry Potter), Tamara Lawrance (Undercover), Jack Lowden (Dunkirk, Fighting with My Family), Chloe Pirrie (The Queen's Gambit), Anton Lesser (Game of Thrones), Natalia Kostrzewa (The Looking Glass), Kiran Sonia Sawar (Black Mirror), and Edward Holcroft (Kingsman).
The film follows Charlotte (Lawrance), a young Brit stunned by the one-two punch of learning she's pregnant and her boyfriend Ben (Holcroft) suddenly died in an accident. Shaken to her core mother-to-be Charlotte collapses upon receiving the news. She wakes up in Ben's family home, a crumbling old manor house in the middle of nowhere with Ben's overbearing mother, Margaret (Shaw), and his controlling stepbrother, Thomas (Lowden).
They are determined to care for her, at least until the baby arrives. Grief-stricken and increasingly haunted by visions possibly brought on by the pregnancy, Charlotte accepts their help. But as the days go by and her visions intensify, she begins to doubt the family's intentions, and her suspicions grow that they may be trying to control her and her unborn baby. As her visions intensify and the haze of lies grows, Charlotte decides that her only option is to break free from this family once and for all – but at what cost?
Kindred is a well-acted, unsettling tale of obsession and it so far has an approval rating of 60% on Rotten Tomatoes based on 10 reviews. It is coming to select theaters and on digital and VOD.
Kindred VOD release date: November 6, 2020
Jungleland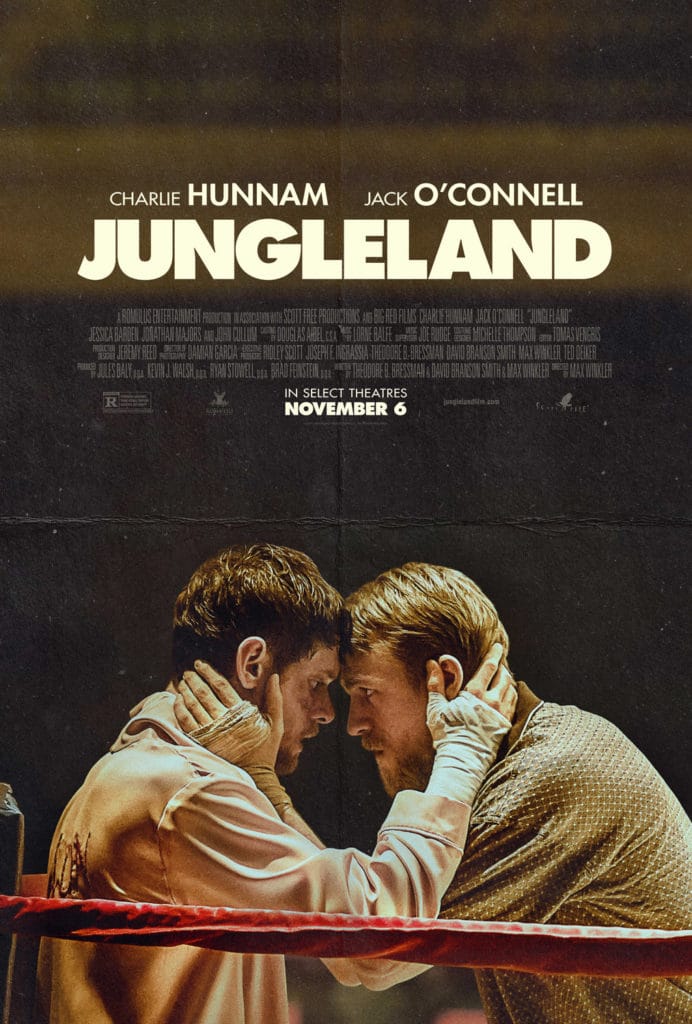 Jungleland is Vertical Entertainment's drama film directed by Max Winkler (Flower) and written by Theodore B. Bressman, David Branson Smith, and Winkler. The film stars Charlie Hunnam (Sons of Anarchy, Pacific Rim), Jack O'Connell (Unbroken), Jessica Barden (The End of the F***ing World), Jonathan Majors (Lovecraft Country, Da 5 Bloods), Fran Kranz (The Cabin in the Woods), and John Cullum (Before We Go).
Synopsis: Stanley (Hunnam) manages his bare-knuckle boxer brother Lion (O'Connell) but when a devastating loss in the ring leaves the pair in debt, an opportunity to recoup the cash leads to a series of misadventures that threaten to break the bond between them. Two brothers try to escape their circumstances by traveling across the country for a no holds barred boxing match that becomes a fight for their lives.
RELATED: ANT-MAN 3 CASTS JONATHAN MAJORS IN LEAD ROLE REPORTEDLY AS SUPER VILLAIN KANG THE CONQUEROR
It premiered at the Toronto International Film Festival on September 12, 2019. The film holds a 70% RT score based on 10 reviews. This R-rated movie is scheduled for a limited release on November 6, 2020, followed by a video on demand.
Jungleland VOD release date: November 10, 2020
Freaky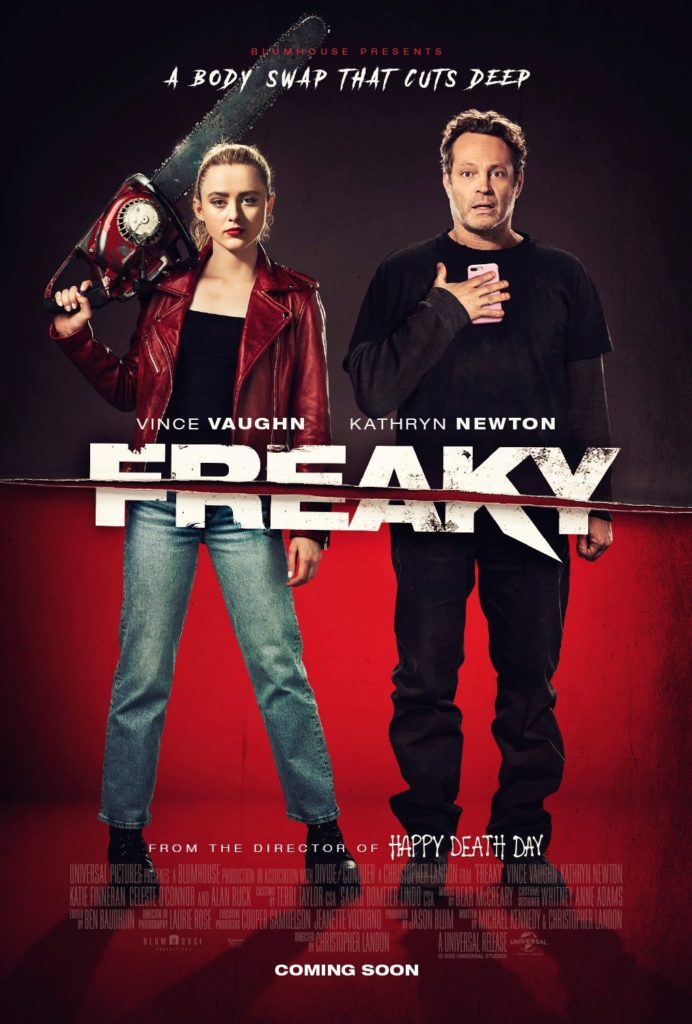 Freaky is Universal Pictures' supernatural/comedy slasher film directed by Christopher Landon (Happy Death Day), from a screenplay by Landon and Michael Kennedy. Jason Blum serves as a producer under his Blumhouse Productions banner. This movie will be following the new Universal Pictures release strategy so after a 17-day theatrical window, the movie will be available through PVOD.
This body-swapping horror comedy stars Vince Vaughn (Wedding Crashers, The Break-Up), Kathryn Newton (Pokémon Detective Pikachu, Big Little Lies, Blockers), Celeste O'Connor (Wetlands), Misha Osherovich (The Goldfinch), Katie Finneran (Bloodline), Uriah Shelton (Looking for Alaska), Dana Drori (Straight Up), and Alan Ruck (Speed, Succession).
The film tells the story of a seventeen-year-old tormented high school student, Millie Kessler (Newton) who is just trying to survive the bloodthirsty halls of Blissfield High and the cruelty of the popular crowd. But when she becomes the newest target of Barney Garris (Vaughn), an infamous serial killer known as the Blissfield Butcher, her senior year which becomes the least of her worries. When the killer's mystical ancient dagger, causes her to swap bodies with him, Millie discovers she has only one day to reverse the switch before it becomes permanent. 
RELATED: SPELL REVIEW: HOODOO HORROR THAT FALLS JUST SHORT OF GREATNESS
Hunted by the police, who are determined to catch the infamous Butcher, Millie must find Garris, who is using her body to target her classmates at Homecoming. With some help from her friends—ultra-woke Nyla (O'Connor), ultra-fabulous Joshua (Osherovich), and her crush Booker (Shelton)—Millie races against the clock to reverse the curse while The Butcher discovers that having a female teen body is the perfect cover for a little Homecoming carnage spree.
Christopher Landon is best known as the director of Happy Death Day (2017) and Happy Death Day 2U (2019). He's good at balancing horror and comedy in an entertaining way and looks like this is the case for Freaky. Vince Vaughn is known for his comedy and lately, Kathryn Newton also has proven her acting chops. The trailers for this look promisingly entertaining. Also Universal intentionally might have waited till November to release the movie as October doesn't have Friday the 13th.
Freaky premiered at Beyond Fest on October 8, 2020, and is scheduled to be released theatrically in the United States on Friday the 13th before being made available via video on demand on December 4, 2020. So far the film holds an approval rating of 90% on Rotten Tomatoes based on 10 reviews in which this was described as a fun, smart, well-acted movie with a lot of heart and is said to be a love letter to slasher and teen comedy. Which makes this a must-watch.
Freaky release date: November 13, 2020
Ammonite
Ammonite is Lionsgate's romantic drama film written and directed by Francis Lee (God's Own Country). The film is loosely inspired by the life of British paleontologist Mary Anning, played by Kate Winslet (Titanic, The Reader), and centers on an intense relationship between Anning and Charlotte Murchison, played by Saoirse Ronan (Little Women, Lady Bird). Gemma Jones (Gentleman Jack), James McArdle (Mary Queen of Scots), Alec Secăreanu (God's Own Country), and Fiona Shaw (Killing Eve, Harry Potter) also star.
In the 1840s, acclaimed self-taught paleontologist Mary Anning works alone on the wild and brutal Southern English coastline of Lyme Regis. The days of her famed discoveries behind her, she now hunts for common fossils to sell to rich tourists to support herself and her ailing widowed mother. When one such tourist, Roderick Murchison, arrives in Lyme on the first leg of a European tour, he entrusts Mary with the care of his young wife Charlotte.
Mary, whose life is a daily struggle on the poverty line, cannot afford to turn him down but, proud and relentlessly passionate about her work, she clashes with her unwanted guest. They are two women from utterly different worlds. Yet despite the chasm between their social spheres and personalities, Mary and Charlotte discover they can each offer what the other has been searching for: the realization that they are not alone. It is the beginning of a passionate and all-consuming love affair that will defy all social bounds and alter the course of both lives irrevocably.
The film had its world premiere at the Toronto International Film Festival on 11 September 2020. Winslet was awarded TIFF's Tribute Actor Award. The R-rated film holds a 75% RT score based on 48 reviews which include a lot of praise for the compelling story, its two leads' individual performances but not their underwhelming chemistry. Ammonite is scheduled for a limited theatrical release in the US.
Ammonite release date: November 13, 2020
Jingle Jangle: A Christmas Journey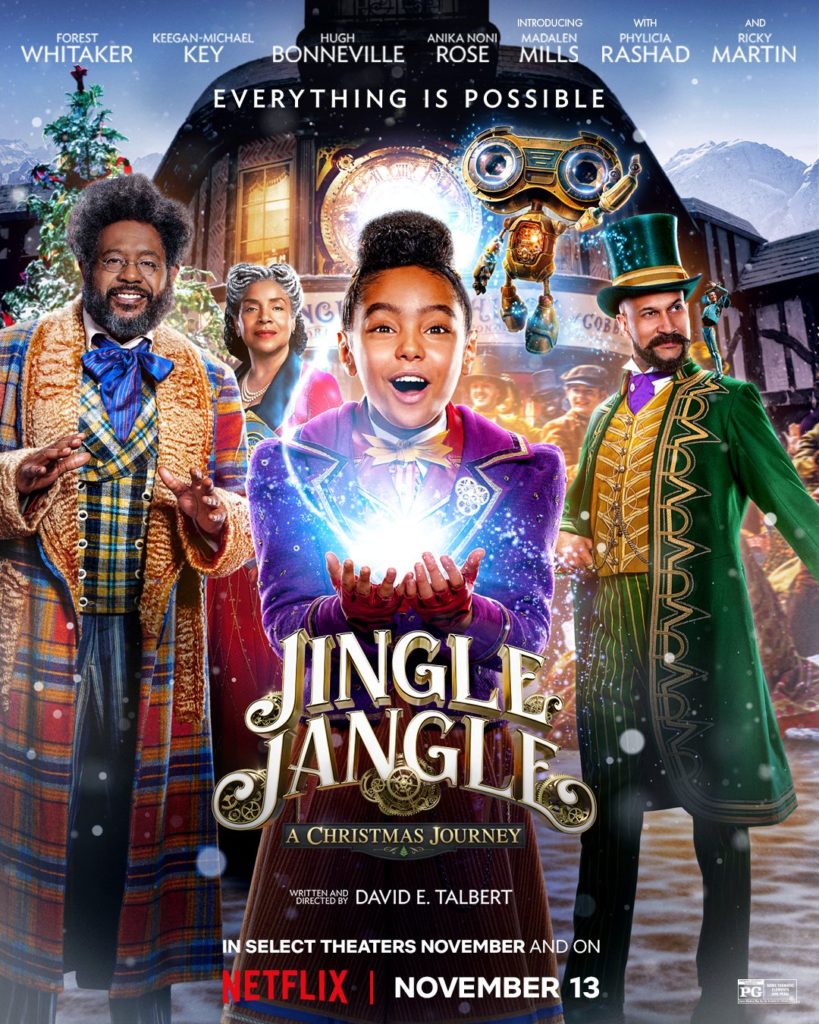 Jingle Jangle: A Christmas Journey is Netflix's original Christmas musical film written and directed by David E. Talbert (Almost Christmas). It stars Forest Whitaker (Black Panther, Rogue One), Madalen Mills, Keegan-Michael Key (Playing with Fire), Hugh Bonneville (Paddington, Downton Abbey), Anika Noni Rose (The Princess and the Frog), Phylicia Rashad (Creed), and Ricky Martin (American Crime Story).
The film is set in the town of Cobbleton and follows eccentric toymaker Jeronicus Jangle (Whitaker), whose fanciful inventions burst with whimsy and wonder. Decades after his trusted apprentice (Key) betrays him by stealing his most prized creation, a once joyful toymaker finds new hope when his bright young granddaughter, Journey (Mills) appears on his doorstep.
It's up to his equally bright and inventive granddaughter and a long-forgotten invention to heal old wounds. Jangle and his granddaughter construct a magical invention which, if they can get it to work in time for the holidays, could change their lives forever.
Jingle Jangle: A Christmas Journey Netflix release date: November 13, 2020