Clouds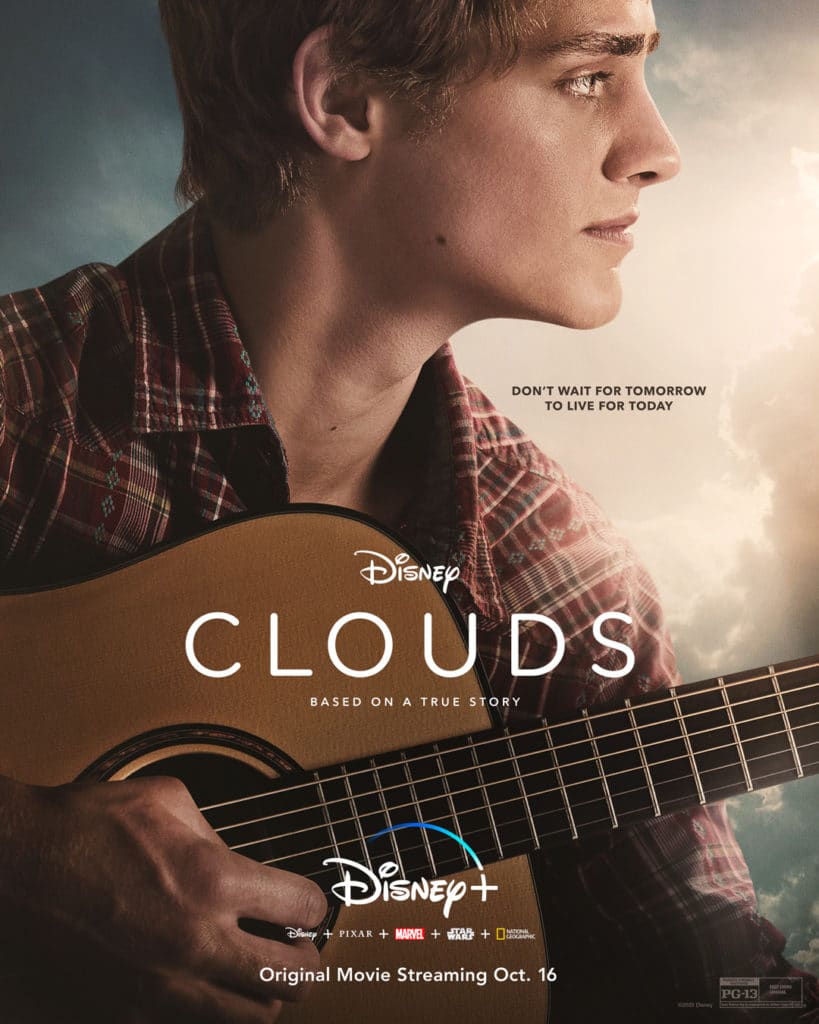 Clouds is Disney+ original musical drama film directed and produced by Justin Baldoni (Five Feet Apart) and written by Kara Holden from a story by Holden, Patrick Kopka, and Casey La Scala. It is based upon the memoir Fly a Little Higher: How God Answered a Mom's Small Prayer in a Big Way by Laura Sobiech.
The film stars Fin Argus (Agents of S.H.I.E.L.D), Sabrina Carpenter (Work It, The Hate U Give), Madison Iseman (Jumanji: Welcome to the Jungle, Annabelle Comes Home), Neve Campbell (Scream, The Craft), Tom Everett Scott (That Thing You Do!), Summer H. Howell (Curse of Chucky), and Lil Rel Howery (Get Out).
Clouds follows a high school senior with raw musical talent who is diagnosed with osteosarcoma, a rare bone cancer. When the young musician Zach Sobiech (Argus) receives news that cancer has spread, leaving him just a few months to live, he resolves to live every day as if it's his last, and he and best friend Samantha "Sammy" Brown (Carpenter) set out to pursue their dreams. With limited time, he follows his dream and makes an album 'Clouds', unaware that it will soon be a viral music phenomenon. What follows is a story about friendship, love, and the power of music that viewers won't soon forget.
Teenager Zach Sobiech forms the music group A Firm Handshake and records the inspirational hit single "Clouds." This charming and inspiring film from Warner Bros. Pictures, inspired by the life and career of a late teen musician is scheduled to be released on Disney+. It will be one of the must-see movies of the fall and for sure make us all cry.
Clouds Disney+ release date: October 16, 2020
The Secrets We Keep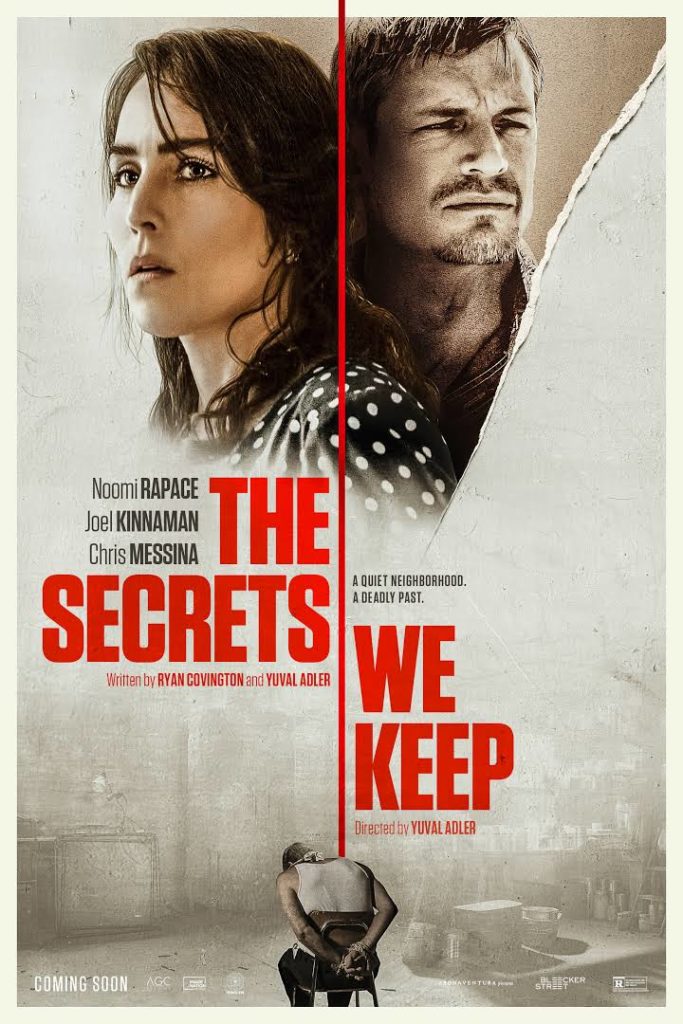 The Secrets We Keep is a drama thriller film directed by Yuval Adler (The Operative, Bethlehem), from a screenplay by Adler and Ryan Covington. It stars Noomi Rapace (Prometheus, The Girl with the Dragon Tattoo), Joel Kinnaman (Suicide Squad), Amy Seimetz (Pet Sematary), Jackson Dean Vincent, Miluette Nalin, Madison Paige Jones, and Chris Messina (Argo, Devil).
Living in post-WWII suburbia, Maja (Rapace) is a Romanian woman making a home in America, rebuilding her life, married to Lewis (Messina), a respected doctor, and mother to young Patrick (Vincent). While at the park one day, a mysterious individual catches Maja's eye, filling her with dread as she decides to follow the man to his car. Realizing that a key figure from her past may be living in her community, Maja elects to kidnap Thomas (Kinnaman), a refinery worker, dragging the man into her basement, prepping him for interrogation.
Accusing Thomas of sadistic war crimes that she believes he committed against her, Maja is determined to pull a confession out of the prisoner. When Lewis discovers the mess, he's pulled into his wife's mission, unsure if he can trust her memory while facing a bleeding man pleading for his life. The Secrets We Keep had a limited release on September 16 and now will be released through video on demand by Bleecker Street studio.
The Secrets We Keep VOD release date: October 16, 2020
Rebecca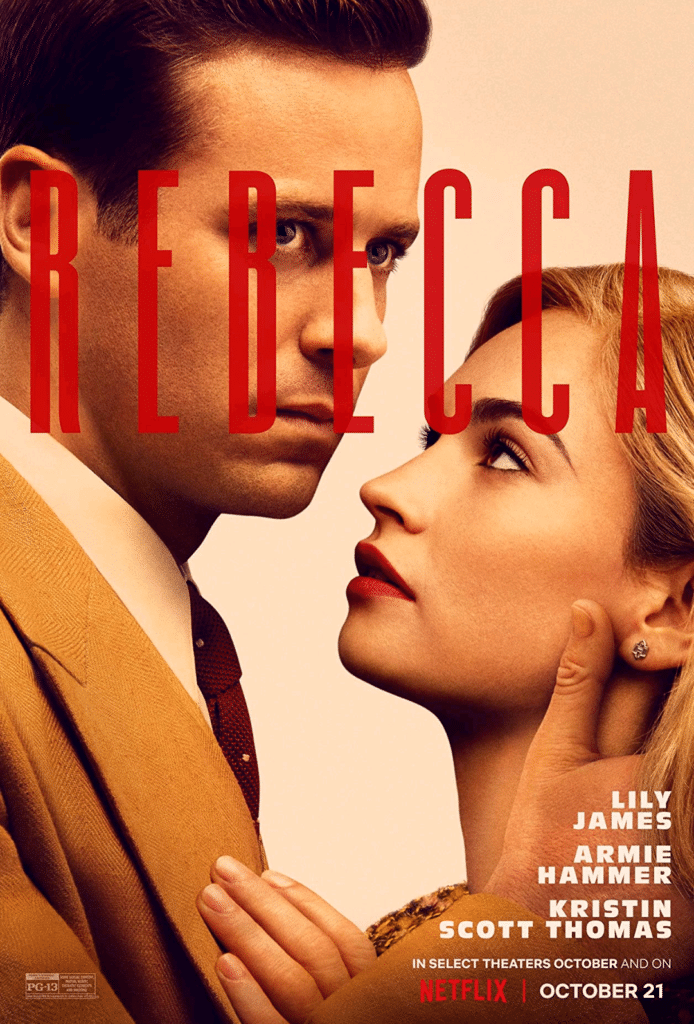 Rebecca is Netflix's original romantic mystery thriller drama film directed by writer-director Ben Wheatley (Kill List, High-Rise, Free Fire) from a screenplay by Jane Goldman, Joe Shrapnel, and Anna Waterhouse. The film is a modern take on the 1938 gothic thriller novel of the same name by Daphne du Maurier.
It stars Lily James (Cinderella, Baby Driver), Armie Hammer (The Social Network, Call Me By Your Name), Kristin Scott Thomas (Only God Forgives), Tom Goodman-Hill (Everest), Keeley Hawes (The Bank Job), Sam Riley (Maleficent), and Ann Dowd (Hereditary). Though the film comprises multiple genres, Wheatley described "Rebecca" as a love story, first and foremost.
Rebecca has been adapted numerous times for the stage and screen, most notably in Alfred Hitchcock's 1940 Oscar-winning film. That film, starring Laurence Olivier and Joan Fontaine, was a critical and commercial hit and considered as one of the classics. It scored 11 Academy Award nominations in total, the most of any contender that year.
The story follows a newly married young woman (James) as she arrives at the imposing family estate of her wealthy husband Maxim de Winter (Hammer) on a windswept English coast. What begins as a whirlwind romance with a wealthy widower, goes awry after she finds herself battling the shadow of her husband's dead first wife, the mysterious Rebecca, whose legacy is kept alive by the sinister housekeeper Mrs. Danvers (Thomas).
Writer-director Goldman is best known for writing the screenplays of "Stardust," "Kingsman: The Secret Service" and the follow-up "Kingsman: The Golden Circle," along with "Kick-Ass" and "X-Men: First Class". Considering the talent in front and behind the camera and if this remake does sticks the landing this might get some awards buzz too. Rebecca is scheduled to be released in select theatres and on Netflix on the same day and this is a must-watch.
Rebecca Netflix release date: October 21, 2020
On the Rocks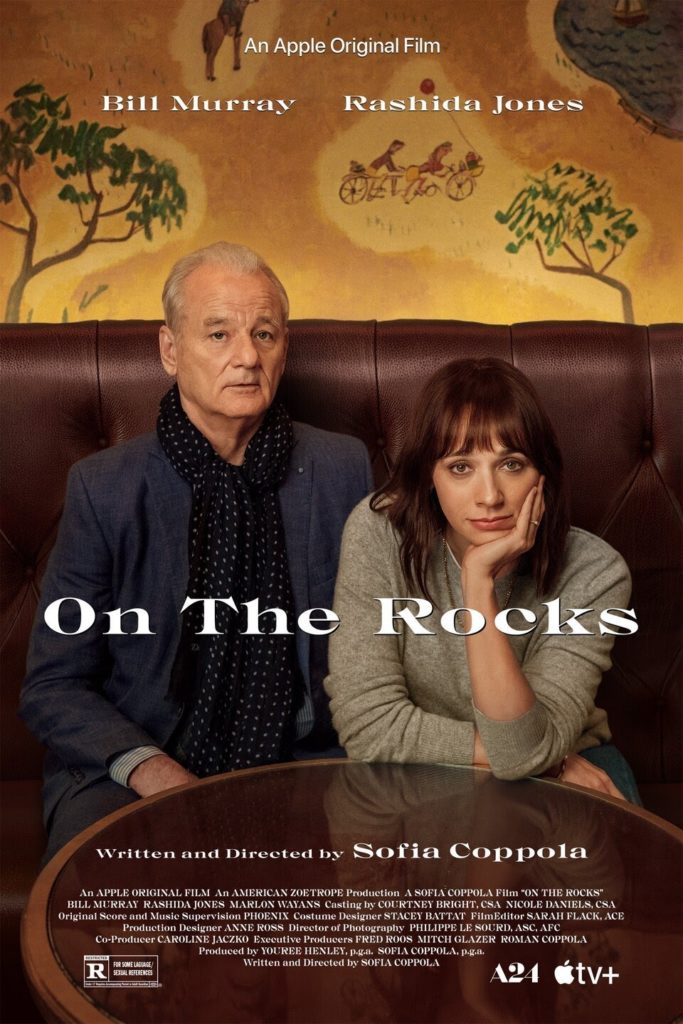 On the Rocks is Apple TV+ original comedy-drama film written, directed, and co-produced by Sofia Coppola (Marie Antoinette, Lost in Translation) featuring Bill Murray (Lost in Translation), Rashida Jones (Parks and Recreation), Marlon Wayans (G.I. Joe: The Rise of Cobra), Jessica Henwick (Iron Fist, Game of Thrones), Jenny Slate (Obvious Child), Nadia Dajani (Happy Accidents), and Barbara Bain (Mission: Impossible).
Set in a world of privilege and sophistication. The story follows a young New York mother Laura (Jones) who thinks she's happily married with two daughters, but when her husband Dean (Wayans) starts logging late hours at the office with a new co-worker, Laura begins to fear the worst. Facing sudden doubts about her marriage she teams up with the one man she suspects may have insight: her larger-than-life playboy impulsive father (Murray), who insists they investigate the situation and tail her suspicious husband. As the two begin prowling New York at night, careening from uptown parties to downtown hotspots, they discover at the heart of their journey lies their own relationship.
The film had its world premiere at the New York Film Festival on September 22, 2020, and is scheduled to be released in a limited theatrical release on October 2, 2020, by A24, followed by a digital streaming release on Apple TV+. This R-rated movie received positive reviews from critics, who noted it as lighter than Coppola's previous films and praised Murray's performance. The film holds an 84% RT score based on 56 reviews. This charming fun movie is Murray's show which is not to be missed.
On the Rocks Apple TV+ release date: October 23, 2020
Over the Moon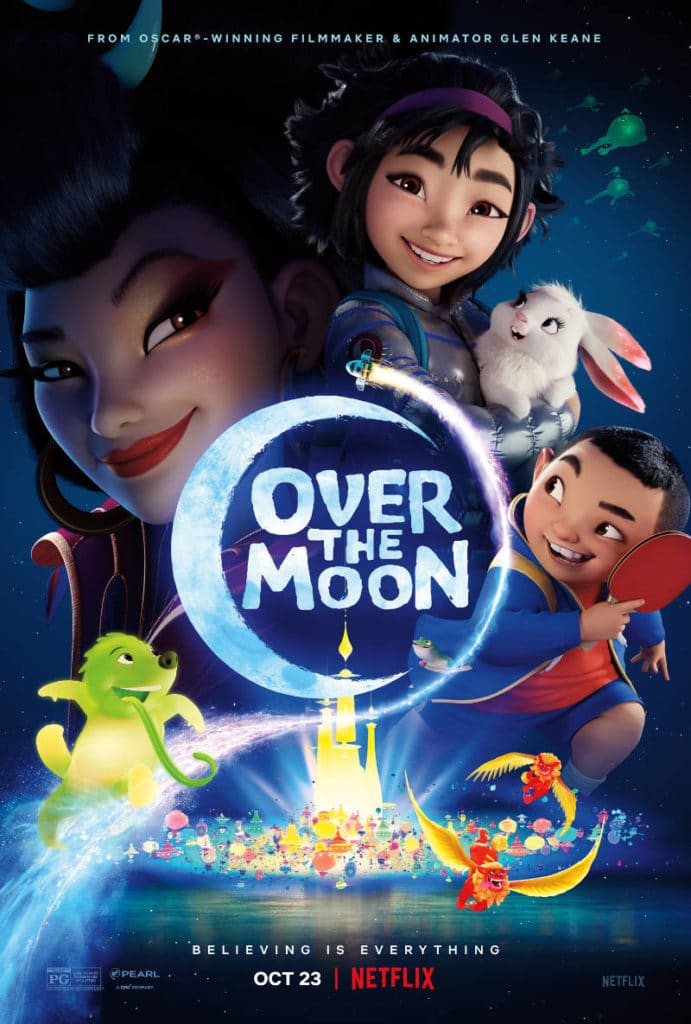 Over the Moon is a Netflix's original American-Chinese computer-animated fantasy musical adventure film, a retelling of the classic Chinese myth, directed by Glen Keane (Beauty and the Beast) and co-directed by John Kahrs (The Incredibles) from a screenplay by Audrey Wells (The Hate U Give). The film is produced by Pearl Studio and is animated by Sony Pictures Imageworks.
It stars the voices of Cathy Ang, Phillipa Soo (Hamilton), Ken Jeong (The Hangover), Kimiko Glenn (Spider-Man: Into the Spider-Verse), John Cho (Searching), Ruthie Ann Miles (All Rise), Margaret Cho, and Sandra Oh (Killing Eve).
The film celebrates Chinese mythology as it follows an adventurous girl named Fei Fei (Ang), whose mother used to tell her tales of the legendary Moon goddess, Chang'e (Soo). As Fei Fei is faced with changes in her life and her father is thinking of remarrying, Fei Fei builds a rocket ship and blasts off, to the moon in her quest to meet Chang'e. Her determination fueled by the adults who tell her Chang'e isn't real.
Oscar-winner Glen Keane (Dear Basketball) is making his feature directorial debut with "Over the Moon." He is a legendary character animator who is known for his work at Walt Disney Animation Studios for feature films including The Little Mermaid, Beauty and the Beast, Aladdin, Pocahontas, Tarzan, and Tangled. The film is scheduled for a release in select theaters and on Netflix on the same day and this will be a fun movie for the family audience.
Over the Moon Netflix release date: October 23, 2020