Hubie Halloween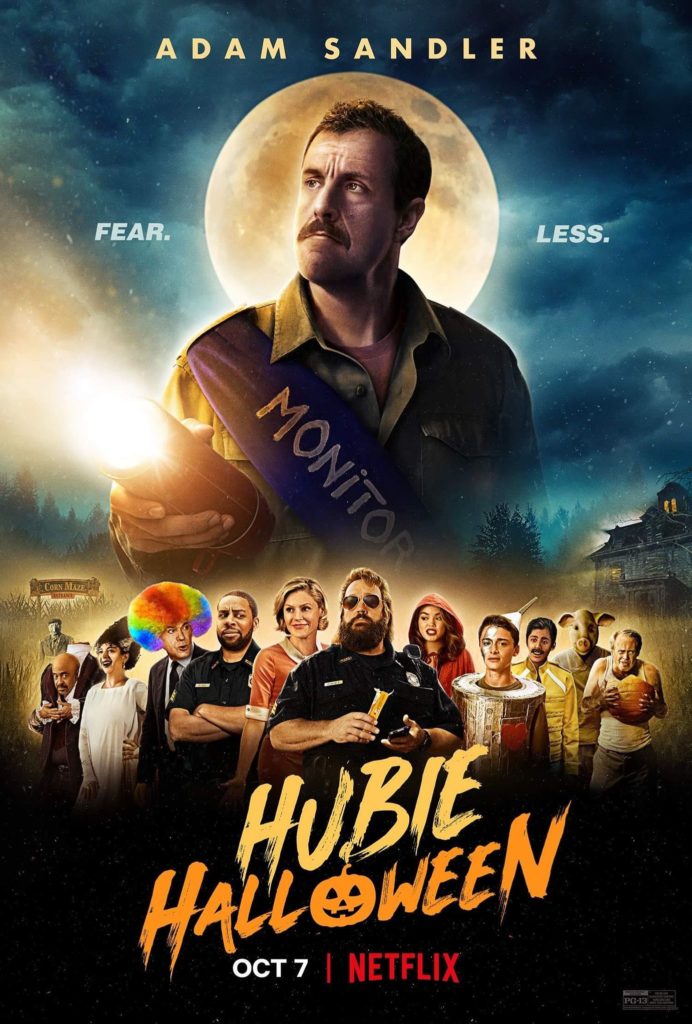 Hubie Halloween is a Netflix original horror-comedy film directed by Steven Brill (Heavyweights) and co-produced, co-written, and starring Adam Sandler (Uncut Gems, Murder Mystery). It also stars Maya Rudolph (Bridesmaids), Julie Bowen (Modern Family), Kevin James (Hotel Transylvania, Becky), Noah Schnapp (Stranger Things), Peyton List (Valley Girl), Kenan Thompson (Unbreakable Kimmy Schmidt), Ray Liotta (Marriage Story), Tim Meadows (Popstar), China Anne McClain (Black Lightning), and Steve Buscemi (Reservoir Dogs).
Hubie Dubois (Sandler) thanklessly spends every Halloween making sure the residents of his hometown, Salem, Massachusetts celebrate safely and play by the rules. Hubie who, despite his devotion to his town (and its legendary Halloween celebration), is a figure of mockery for kids and adults alike. But this year, something really is going bump in the night, an escaped criminal and a mysterious new neighbor have Hubie on high alert.
When people start disappearing, it's up to Hubie to convince the police and townsfolk that the monsters are real, and only he can stop them and save Halloween. This a fun adventurous Halloween movie you expect from Adam Sandler and this film is releasing on Netflix for the October Halloween season.
Hubie Halloween Netflix release date: October 7, 2020
Books of Blood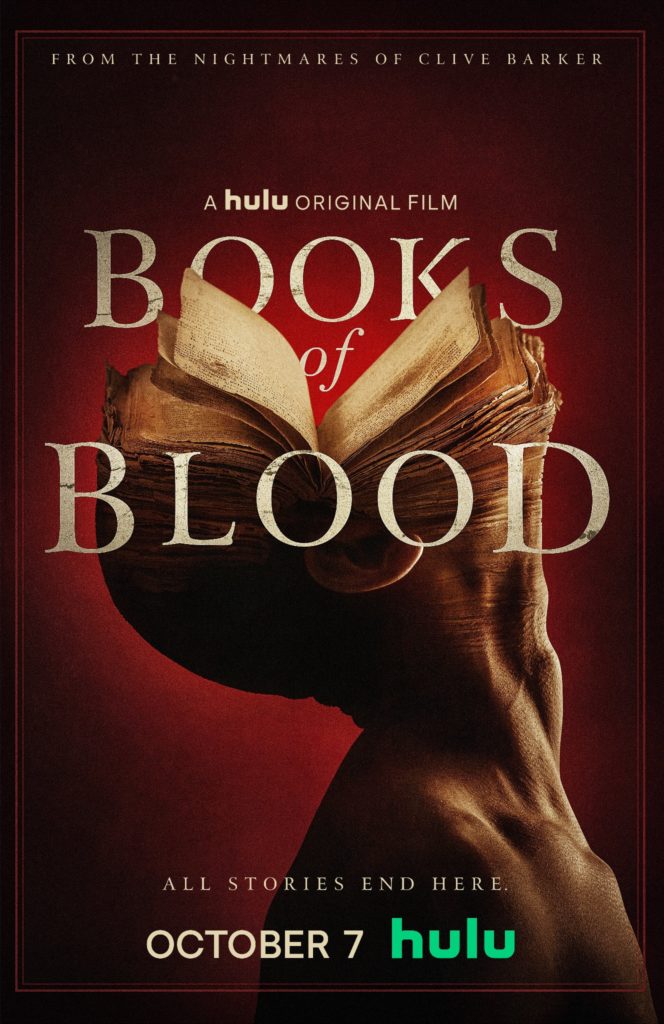 Books of Blood is Hulu's original sci-fi horror drama directed by Brannon Braga (Star Trek: Enterprise) from a screenplay co-written by Adam Simon. Clive Barker's series of short stories gathered in the Books of Blood collections have served as inspirations for several movies: The Midnight Meat Train, Rawhead Rex, Quicksilver Highway, Lord of Illusions, Dread, and, the best of the bunch, Candyman. Now Hulu made a movie based on Books of Blood. The movie is co-executive produced by Mark Miller and produced by Jason Clark and Joe Micucci.
In Books of Blood, audiences will be taken "on a journey into uncharted and forbidden territory through three uncanny tales tangled in space and time." It features Britt Robertson (Tomorrowland), Rafi Gavron (A Star Is Born), Anna Friel (Limitless), and Yul Vazquez (The Outsider). The streaming service was originally planning a Books of Blood TV series, but they opted to go with a movie instead. The film comes from Touchstone Television and Fuzzy Door, headed by Seth MacFarlane and Erica Huggins.
Books of Blood Hulu release date: October 7, 2020
Charm City Kings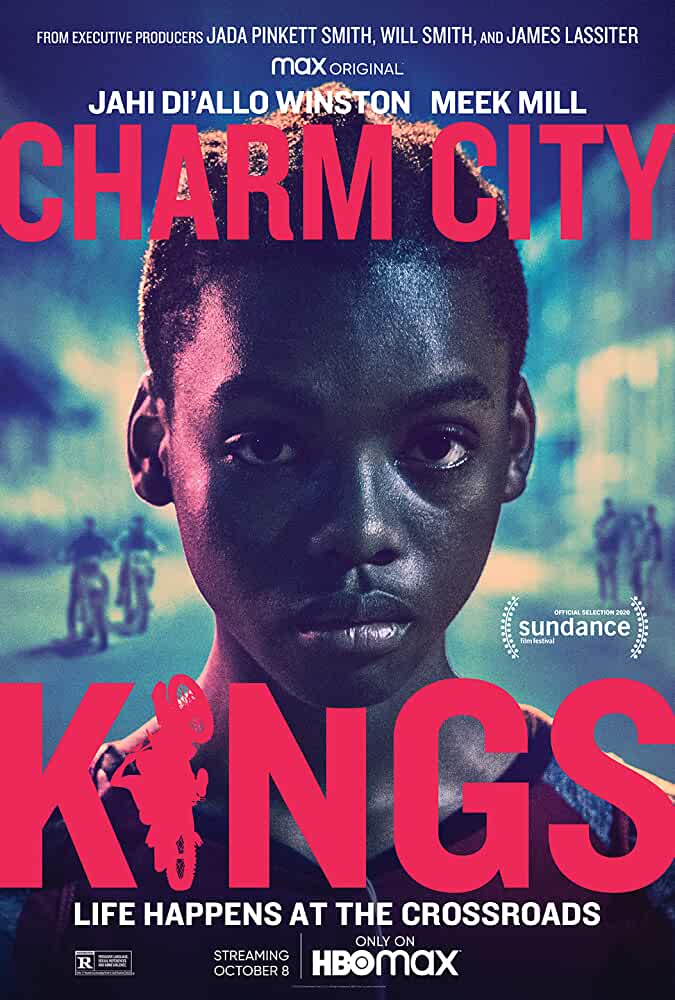 Charm City Kings is an HBO Max original drama film directed by Angel Manuel Soto (The Farm), from a screenplay by Sherman Payne (Shameless), and a story by Kirk Sullivan (City of Dead Men), Chris Boyd, and Barry Jenkins (Moonlight) with Jada Pinkett Smith, Caleeb Pinkett, and Will Smith serving as executive producers. It is a film adaptation of the documentary 12 O'Clock Boys by Lotfy Nathan.
It stars Jahi Di'Allo Winston (The Upside), Meek Mill, Will Catlett (Black Lightning), Teyonah Parris (If Beale Street Could Talk), Milan Ray (Troop Zero), Kezii Curtis, and Donielle T. Hansley Jr. (Containment). The story follows a fourteen-year-old Mouse (Winston) who desperately wants to join the Midnight Clique, an infamous group of Baltimore dirt-bike riders who rule the summertime streets. When Midnight's leader, Blax (Mill), takes Mouse under his wing, Mouse soon finds himself torn between the straight-and-narrow and a road filled with fast money and violence.
The film had its world premiere at the Sundance Film Festival on January 27, 2020. This R-rated movie holds a 88% RT score based on 17 reviews. Charm City Kings is scheduled to be released on HBO Max.
Charm City Kings HBO Max release date: October 8, 2020
The Doorman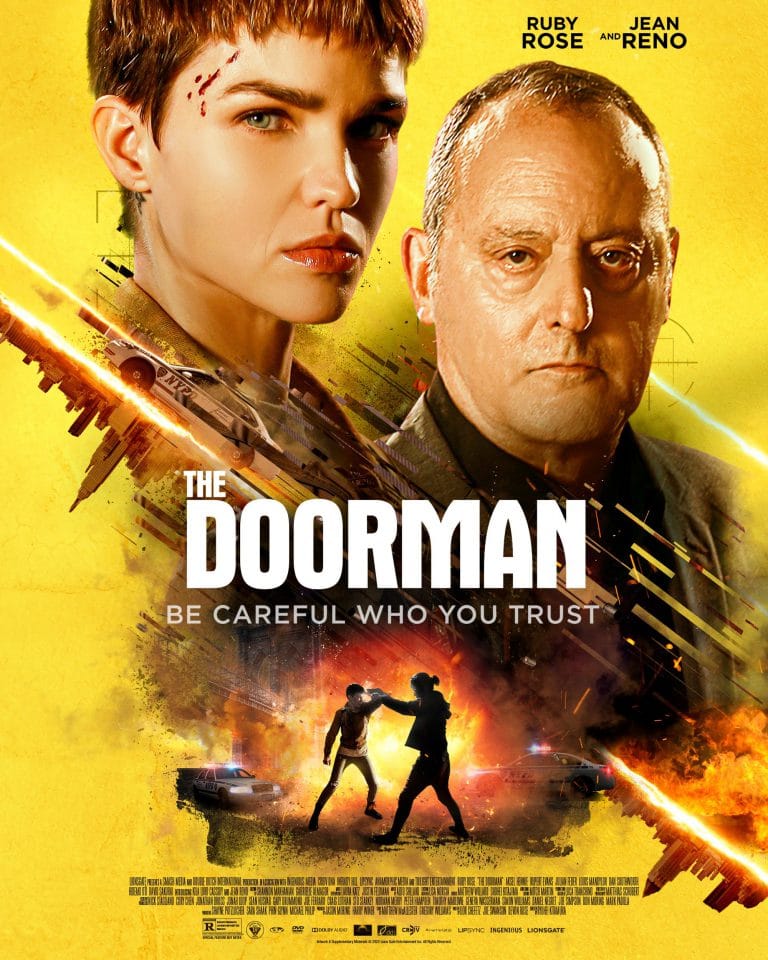 The Doorman is an action thriller film directed by Ryuhei Kitamura (No One Lives, The Midnight Meat Train). It stars Ruby Rose (Batwoman, John Wick: Chapter 2), Jean Reno (Leon: The Professional), Aksel Hennie (Max Manus), Rupert Evans (The Man in the High Castle), and David Sakurai (The Man in the High Castle). There is a lot of effort put into the stunts in this film. And this is the kind of movie to watch for the sake of kick-ass action.
The story follows a woman who returns from combat and befriends a family in NYC. The former Marine turned doorman battles mercenaries intent on destroying her apartment building to retrieve the family's precious artwork hidden in the walls, she is all that stands between them and their lives. And she isn't one to be messed with.
The Doorman VOD release date: October 9, 2020
The Wolf of Snow Hollow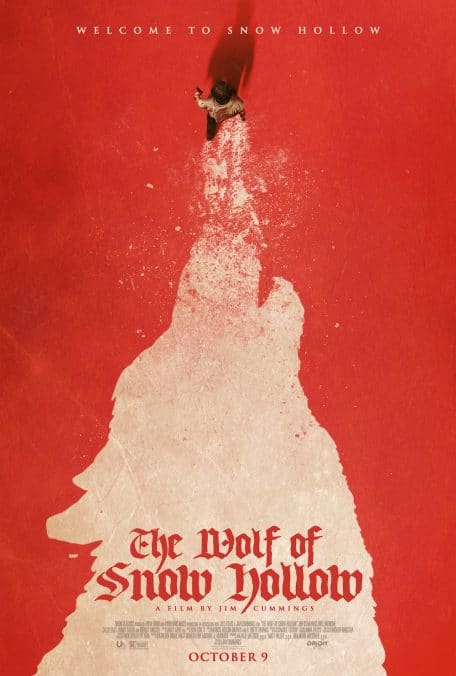 The Wolf of Snow Hollow is Orion Pictures' indie horror film written and directed by Jim Cummings (Thunder Road). It Stars Jim Cummings, Riki Lindhome (The Last House on the Left), Jimmy Tatro (American Vandal), Chloe East (Kevin (Probably) Saves the World), Marshall Allman (True Blood), Annie Hamilton (Marriage Story), and Robert Forster (Jackie Brown, Mulholland Drive). This movie marks the final on-screen performance of the late Robert Forster.
In The Wolf Of Snow Hollow, Cummings' supernatural horror narrative involves a detective investigating a series of murders. "Terror grips a small mountain town as bodies are discovered after each full moon. Losing sleep, raising a teenage daughter, and caring for his ailing father, officer Marshall (Cummings) struggles to remind himself there's no such thing as werewolves." The film is scheduled to be released in limited theaters and on-demand.
The Wolf of Snow Hollow VOD release date: October 9, 2020.
The War with Grandpa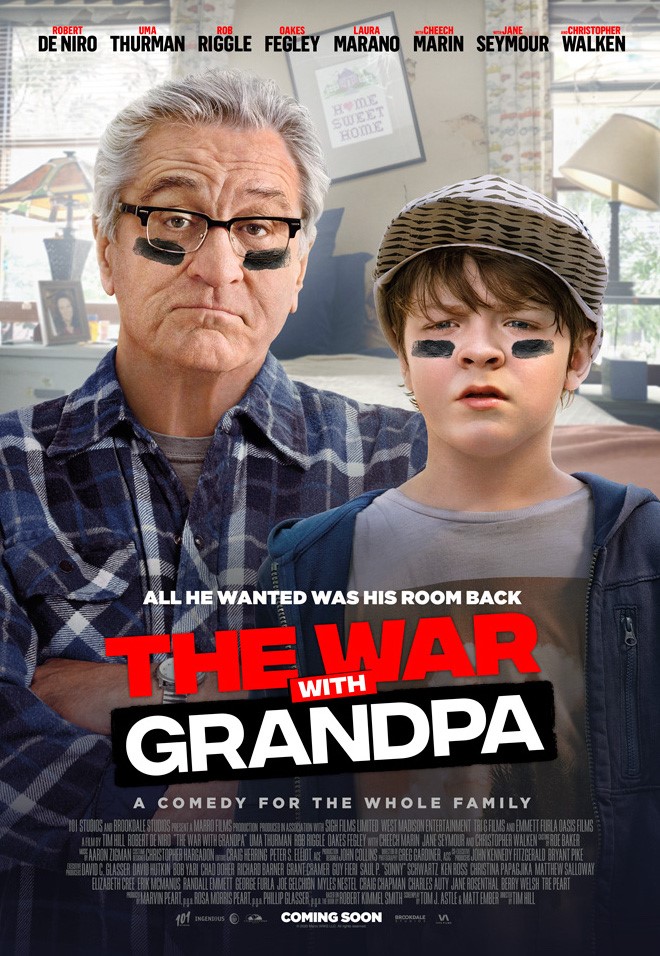 The War with Grandpa is a family comedy film directed by Tim Hill (The SpongeBob Movie: Sponge on the Run), from a screenplay by Tom J. Astle and Matt Ember, based upon the novel of the same name by Robert Kimmel Smith. The film is about a young boy who works to get his grandfather to move out of his room after he moves in with his family. It stars Robert De Niro (The Irishman), Oakes Fegley (Pete's Dragon), Uma Thurman (Kill Bill), Rob Riggle (21 Jump Street), Laura Marano (Lady Bird), Cheech Marin (Cars), Jane Seymour (Wedding Crashers), and Christopher Walken (Pulp Fiction).
The story follows a sixth-grader, Peter is pretty much your average kid—he likes gaming, hanging with his friends, and his beloved pair of Air Jordans. But when his recently widowed grandfather Ed (De Niro) moves into the house of his parents (Thurman and Riggle), the scheming boy is forced to give up his most prized possession of all, his bedroom.
Unwilling to let such an injustice stand, Peter devises a series of outrageous elaborate pranks in an attempt to drive out the interloper, but Grandpa Ed won't go without a fight. He fights back with some pranks of his own and assistance from his friends (Marin and Walken). It is scheduled to be released in theatres by 101 Studios and Brookdale Studios.
The War with Grandpa release date: October 9, 2020
Nocturne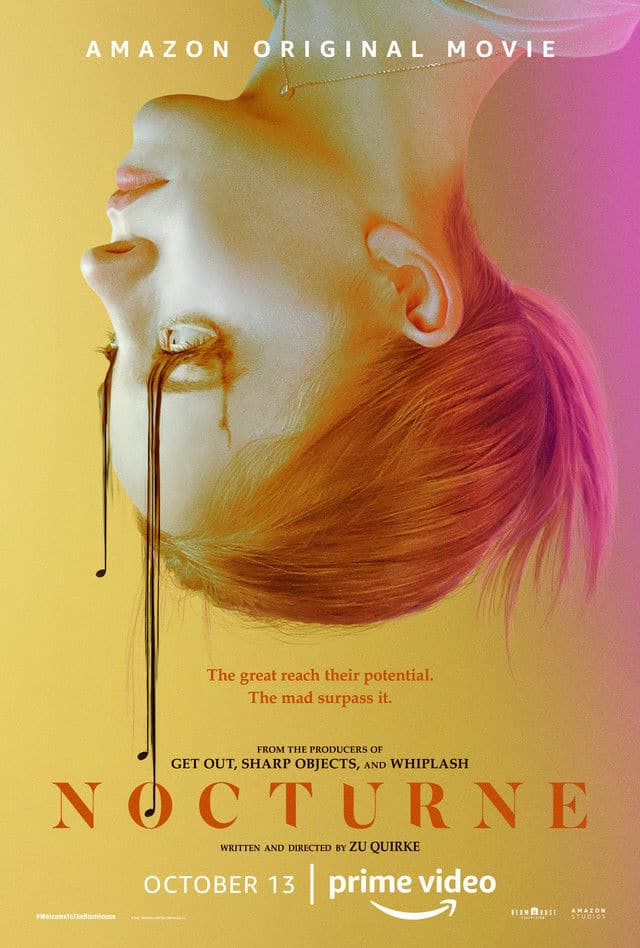 Nocturne is Amazon's original mystery horror-thriller film written and directed by Zu Quirke in her directorial debut. It stars Sydney Sweeney (Euphoria, The Handmaid's Tale), Madison Iseman (Jumanji: Welcome to the Jungle, Annabelle Comes Home), Jacques Colimon (The Society), and Ivan Shaw (Insecure). Jason Blum serves as a producer under his Blumhouse Productions banner and it is scheduled to be released on Amazon. This will be a perfect horror film for the Fall season.
Inside the halls of an elite arts academy, an incredibly gifted and timid pianist begins to outshine her more accomplished and outgoing twin sister when she discovers a mysterious notebook belonging to a recently deceased classmate. She makes a Faustian bargain to overtake her older sister at the prestigious institution for classical musicians.
Nocturne Amazon release date: October 13, 2020
Seized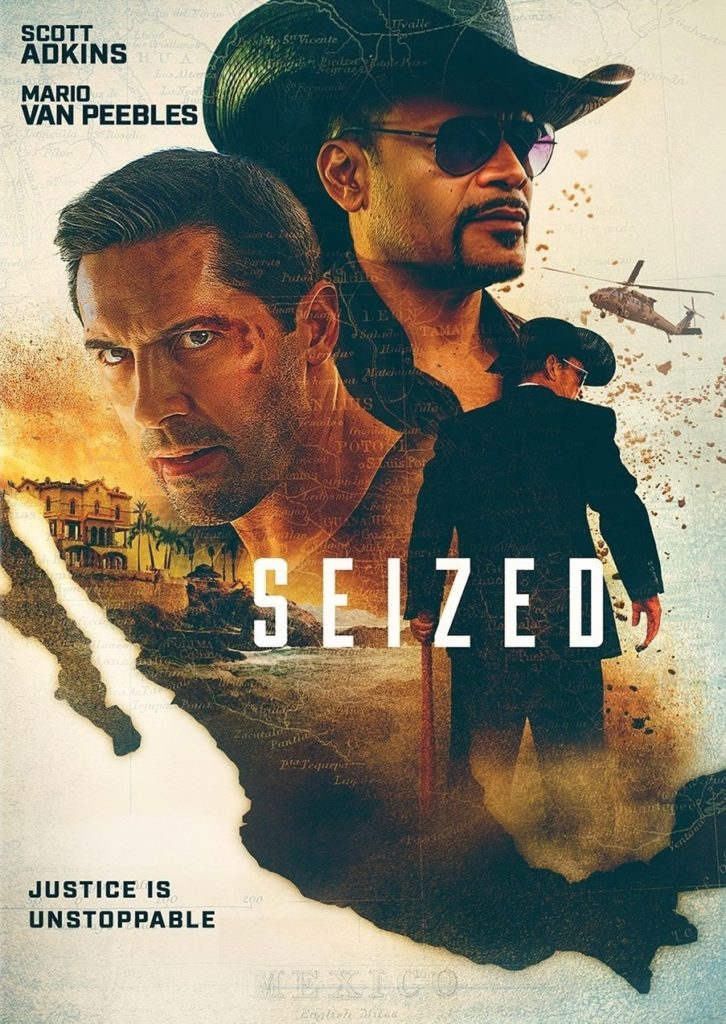 Seized is an action thriller film directed by Isaac Florentine (Acts of Vengeance, Undisputed 2: Last Man Standing). Starring Scott Adkins a well-known star in the world of martial arts movies. The ass-kicking actor played supporting roles in mainstream films like Doctor Strange, Zero Dark Thirty, and The Bourne Ultimatum. But hardcore action movie fans know him from his low-budget, down and dirty action thrillers like Ninja: Shadow of a Tear and Universal Soldier: Day of Reckoning.
Official synopsis: Hiding out with his son Taylor (Matthew Garbacz) on the Mexican coast, Nero (Adkins) hopes to put his violent Special Forces career behind him. But after Nero's home is attacked and Taylor is abducted, the mysterious Mzamo (Mario Van Peebles) orders Nero to slaughter the members of three rival crime syndicates. If he fails, Taylor will die. Now, with bullets flying and bodies dropping as Nero completes his mission, he races to find Mzamo's hideout and seek revenge.
The story is basically Taken meets John Wick. With one of the go-to directors in the modern martial arts space behind the camera with a beast like Adkins in front of it, Seized is a direct-to-video film that action lovers will enjoy.
Seized VOD release date: October 13, 2020
A Babysitter's Guide to Monster Hunting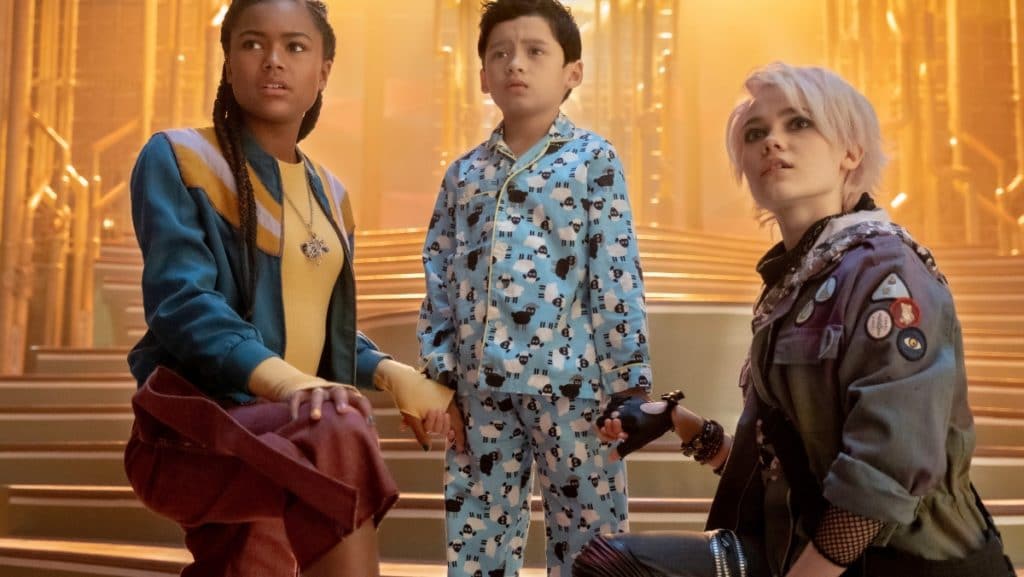 A Babysitter's Guide to Monster Hunting is Netflix's original kid-friendly comedy/adventure creature-feature from Rachel Talalay (Doctor Who, The Flash). It stars Tamara Smart (The Worst Witch, Artemis Fowl) as a high-schooler who gets roped into a secret society of babysitters who protect humanity from things that go bump in the night. The film is based on the first installment of Joe Ballarini's popular scary book series of the same name who also serves as the screenwriter for the movie.
Also starring in this adventure film about working together to overcome your fears are: Tom Felton (Harry Potter), Oona Laurence (Lost Girls), Indya Moore (Pose), Ian Ho (A Simple Favour), Cameron Bancroft (Michelle's), Troy Leigh-Anne Johnson (On My Block), Lynn Masako Cheng, Ty Consiglio (Wonder), Tamsen McDonough (Killjoys), Crystal Balint (The Bletchley Circle: San Francisco), and Alessio Scalzotto (Rim of the World).
When high school freshman Kelly Ferguson (Smart) reluctantly agrees to babysit Jacob Zellman (Ho) on Halloween, the last thing she expects is to be recruited into an international secret society of babysitters who protect kids with special powers from monsters. To keep Jacob safe from harm, Kelly teams with no-nonsense chapter Vice President Liz Lerue (Laurence), tech genius Berna Vincent (Johnson), creature expert Cassie Zhen (Cheng), and potions master Curtis Critter (Consiglio) to defeat a Boogeyman known as "The Grand Guignol" (Felton), a glamorous witch named "Peggy Drood" (Moore) and their legion of mysterious monsters.
A Babysitter's Guide to Monster Hunting Netflix release date: October 14, 2020
Honest Thief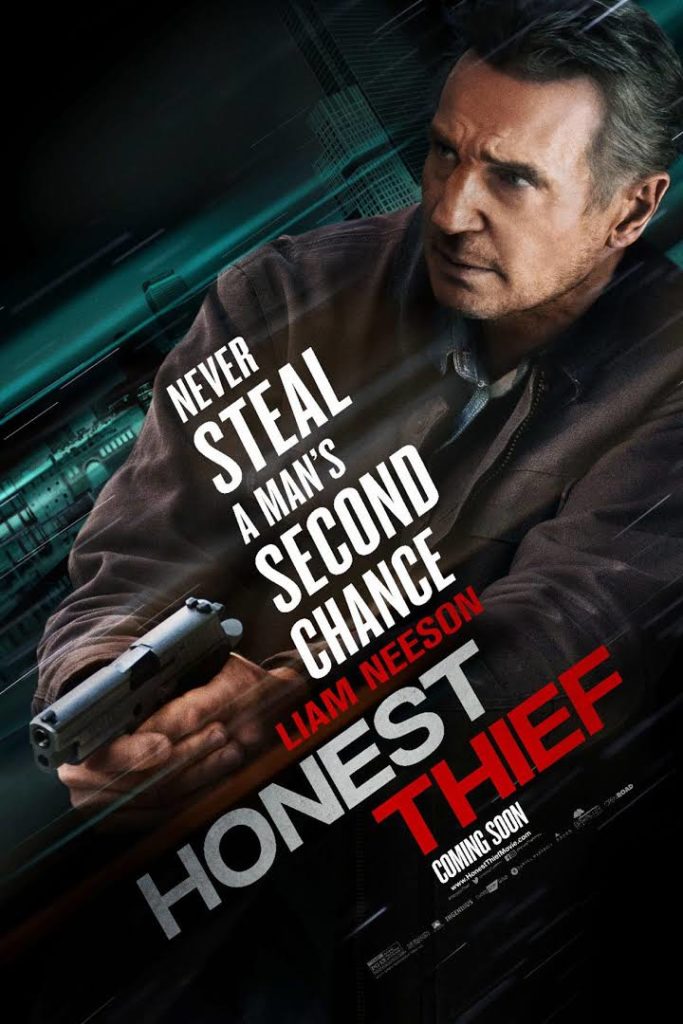 Honest Thief is an action thriller film directed by Mark Williams (A Family Man, Ozark), from a screenplay by Williams and Steve Allrich. The film stars Liam Neeson (Schindler's List, Taken), Kate Walsh (The Umbrella Academy, 13 Reasons Why), Robert Patrick (Perry Mason), Anthony Ramos (Hamilton), Jeffrey Donovan (Sicario: Day of the Soldado), and Jai Courtney (Suicide Squad). Honest Thief is scheduled for a theatrical release in the US, this month by Open Road Films.
The story follows a former professional bank robber (Neeson) who agrees to turn himself in and return all the money he stole in exchange for a reduced sentence because he's falling in love and wants to live an honest life but only to be double-crossed by two ruthless FBI agents. But when they set him up for murder, he realizes the Feds are more corrupt than him, he must now go on the run to clear his name and bring them to justice.
Honest Thief release date: October 16, 2020
The Trial Of The Chicago 7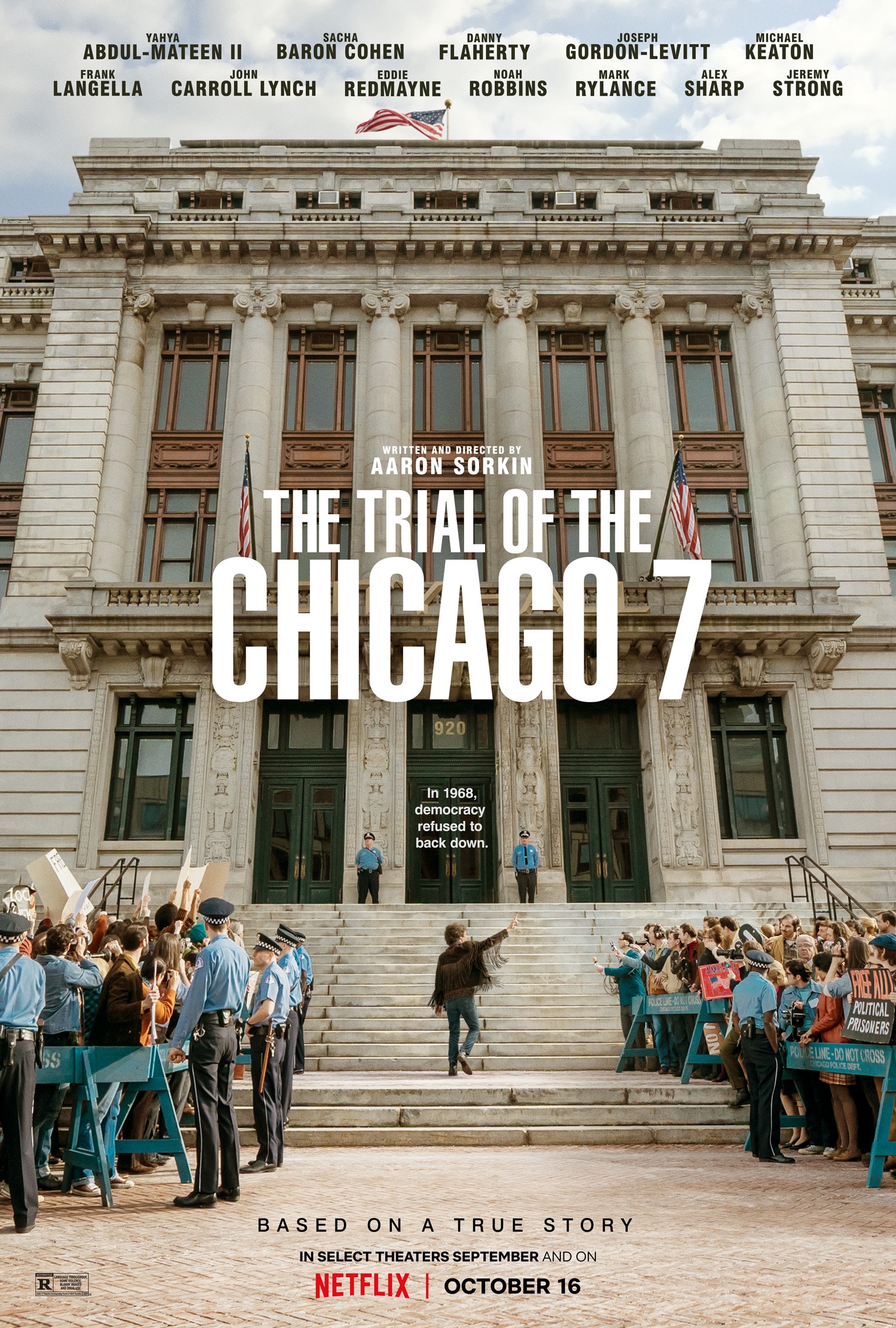 The Trial Of The Chicago 7 is Netflix's original legal drama film written and directed by incredible writer Aaron Sorkin. The film follows the Chicago Seven, a group of anti-Vietnam War protesters charged with conspiracy and crossing state lines with the intention of inciting riots at the 1968 Democratic convention in Chicago.
It features a stacked ensemble cast that includes Yahya Abdul-Mateen II (Watchmen, Aquaman), Eddie Redmayne (Fantastic Beasts, The Theory of Everything), Sacha Baron Cohen (Borat), Daniel Flaherty (November Criminals), Joseph Gordon-Levitt (Inception), Michael Keaton (Birdman), Frank Langella (Captain Fantastic), John Carroll Lynch (Zodiac), Noah Robbins (The Assistant), Mark Rylance (Ready Player One), Alex Sharp (To the Bone), Ben Shenkman (Blue Valentine), and Jeremy Strong (The Gentlemen). Looks like this movie might gain some awards buzz for Netflix.
Sorkin is known for writing screenplays for films A Few Good Men, Moneyball, and Steve Jobs. He won an Oscar for Best Adapted Screenplay for The Social Network. This is his second directorial after Molly's Game which he also wrote and got nominated. Originally planned for a theatrical release by Paramount Pictures, the distribution rights to the film were sold to Netflix due to the COVID-19 pandemic.
The Trial Of The Chicago 7 was released in select theaters on September 25, 2020, and will begin streaming digitally on Netflix this month. It holds a 92% rating on Rotten Tomatoes based on 61 reviews. This film is a must-watch as it got praise for its ensemble cast, Sorkin's screenplay, and the modern parallels to the 1960s.
The Trial Of The Chicago 7 Netflix release date: October 16, 2020
Kajillionaire
Kajillionaire is Focus Features' crime comedy-drama film, written and directed by actor-director-writer Miranda July (Me and You and Everyone We Know). This is July's third feature film who is also known for her role in Madeline's Madeline. Kajillionaire stars Evan Rachel Wood (Westworld), Richard Jenkins (The Shape of Water), Debra Winger (The Ranch), Gina Rodriguez (Carmen Sandiego), Rachel Redleaf (Atypical), Diana Maria Riva (Dead to Me), and Mark Ivanir (Away).
The official synopsis: "Con-artists Theresa (Winger) and Robert (Jenkins) have spent 26 years training their only daughter, Old Dolio (Wood), to swindle, scam, and steal at every opportunity. During a desperate, hastily conceived heist, they charm a stranger (Rodriguez) into joining their next scam, only to have their entire world turned upside down."
It had its world premiere at the Sundance Film Festival on January 25, 2020. July's first feature film since 2011's "The Future" earned some of the best buzz out of the festival thanks to the actor/director July's mastery of comic tone and the dynamite performance of the ensemble cast. This R-rated movie was released in theaters on September 25 and now it will be released on-demand. The film holds a 88% RT score based on 116 reviews. It is a must-see indie film of this season.
Kajillionaire VOD release date: October 16, 2020
Love and Monsters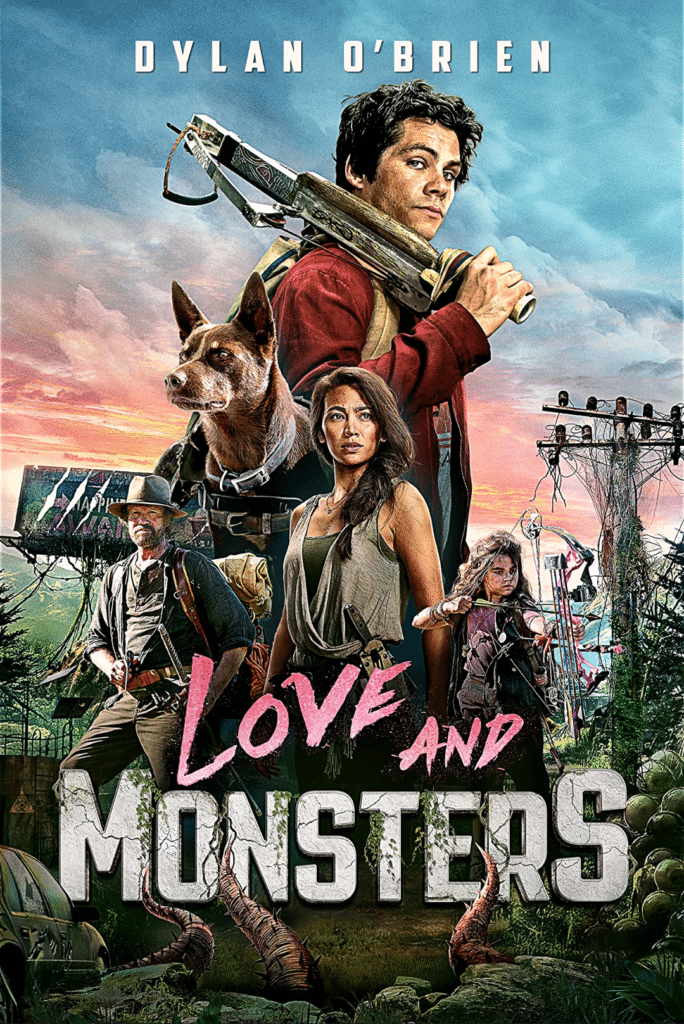 Love and Monsters is Paramount Pictures' post-apocalyptic action romantic comedy film directed by Michael Matthews (Five Fingers for Marseilles). The film stars Dylan O'Brien (Maze Runner, Teen Wolf), Jessica Henwick (Iron Fist, Game of Thrones), and Ariana Greenblatt (The One and Only Ivan), Dan Ewing (Home and Away), Ellen Hollman (Spartacus), Tandi Wright (The Sounds), Melanie Zanetti (The Bureau of Magical Things), Amali Golden (Black Water: Abyss), and Michael Rooker (Guardians of the Galaxy).
Official synopsis: Seven years after the Monsterpocalypse, Joel Dawson (O'Brien), along with the rest of humanity, has been living in underground colonies, ever since giant creatures took control of the land. After reconnecting over the radio with his high school sweetheart Aimee (Henwick), who is now 80 miles away at a coastal colony, Joel begins to fall for her again. As Joel realizes that there's nothing left for him underground, he decides against all logic to brave the surface and venture out to Aimee, despite the dangerous monsters standing between him and his lost love.
Along his dangerous journey, Joel makes unlikely friends including a heroic dog and a pair of survivalists (Rooker; Greenblatt) who help him survive the monster-infested road to true love. Love and Monsters forgoes a theatrical release and instead scheduled to be released via VOD platforms for a 48-hour rental period at a suggested rental price of $19.99 in the U.S. This a fun monster-filled action-adventure comedy film to relish.
Love and Monsters VOD release date: October 16, 2020