Radioactive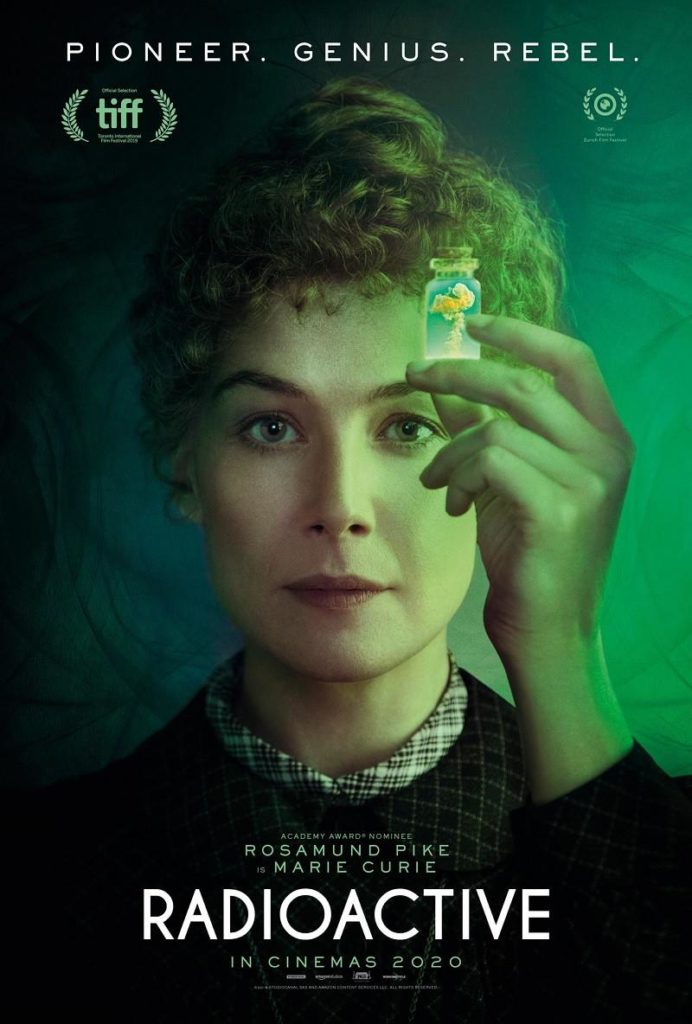 Radioactive is Amazon's biographical drama/romance film directed by Marjane Satrapi and starring Rosamund Pike (Gone Girl) as Maria Sklodwska-Curie. The film is based on the graphic novel by Lauen Redniss. The film also stars Sam Riley (Free Fire), Anya Taylor-Joy (Last Night In Soho), Aneurin Barnard (Dunkirk), and Simon Russell Beale (The Death of Stalin). The film premiered as the Closing Night Gala at the 2019 Toronto International Film Festival.
This is the incredible, true story of Marie Curie and her ground-breaking scientific achievements. In Paris, 1893, Marie meets fellow scientist Pierre Curie (Riley). The pair go on to marry, raise two daughters, and change the face of science forever by jointly winning the Nobel Prize for the discovery of radium in 1903. Marie Curie was the first female scientist to win the esteemed prize. The film is initially set to be released on April 24 but it was delayed due to pandemic. The film has a 68℅ RT score based on 28 reviews.
Radioactive is coming to Amazon on July 24, 2020.
---
Yes, God, Yes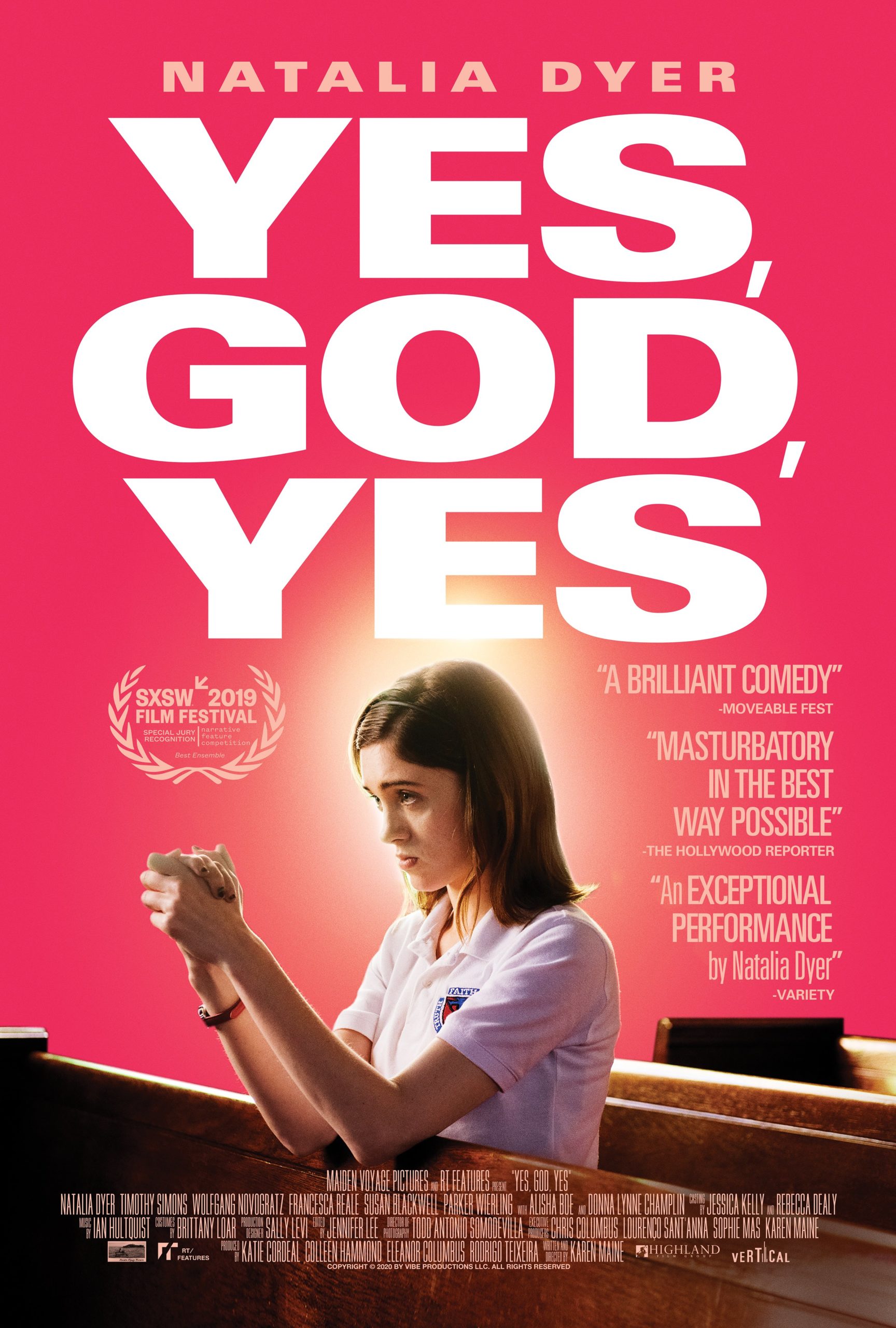 Yes, God, Yes is a coming-of-age comedy-drama film written and directed by Karen Maine and starring Natalia Dyer (Stranger Things). It's Maine's directorial debut, based on her 2017 short film of the same name also starring Natalia Dyer.
In the Midwest in the early 2000s, 16-year-old Alice has always been a good innocent Catholic girl. But when an AOL chat turns racy, she discovers masturbation and becomes guilt-ridden. Seeking redemption, she attends a mysterious religious retreat to try and suppress her urges, but it is not easy, especially after a cute boy starts flirting with her.
Alice's sense of shame is spiraling when she uncovers a shocking truth about the retreat's most devout. Desperate and confused, she flees and meets an unlikely ally who offers an alternative view of what it means to be good. For the first time, Alice realizes she can decide for herself what to believe and finally gets the release she needs.
It also stars Alisha Boe (13 Reasons Why), Francesca Reale (Stranger Things), Timothy Simons (Inherent Vice), Wolfgang Novogratz (The Half of It), Parker Wierling (The 5th Wave), Donna Lynne Champlin (Birdman), Susan Blackwell (After the Wedding).
There are many coming-of-age sex comedies engineered by and for the male perspective. But this forthcoming semi-autobiographical film from Maine, the co-writer of Obvious Child, flips the scenario, telling a story of sexual exploration from a young woman's point of view. This charming coming-of-age R-rated film holds an approval rating of 100% on RT based on 11 reviews.
Yes, God, Yes is will be available on VOD on July 28, 2020.
---
The Hater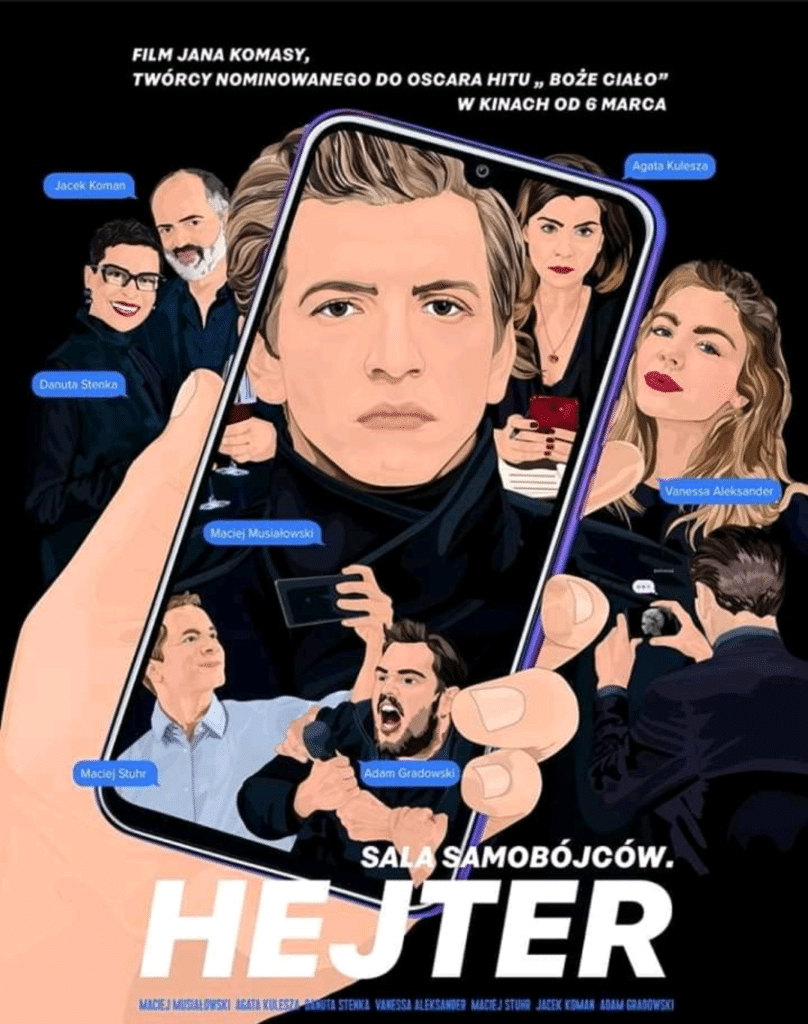 The Hater (Hejter) is a Polish thriller drama film directed by Jan Komasa and written by Mateusz Pacewicz. The plot centers around an expelled university student from Warsaw who attempts to steer the internet, causing widespread hatred and violence. It premiered on March 6th, 2020 in Poland and went on to win the Best International Narrative Feature Award at Tribeca Film Festival. Komasa is the director of the 2020 Oscar-nominated Polish feature Corpus Christi. The Hater is considered a sequel or a spin-off to Komasa's previous 2011 film, Suicide Room.
While it's fictional, the film relates to ongoing real-life situations such as the use of Twitter or other social media to psychologically manipulate an audience and navigate public opinion. It's a representation of how online-propelled hatred can lead to severe consequences and real-life casualties. There will be those who benefit from the inevitable clashes and ensuing chaos, like the lead in The Hater movie.
In a society grappling with its communist past and European present, both the cultural elite and disenfranchised young men see forces of darkness descending over Europe. The story follows Tomasz Giemza, a disgraced Polish law student from a progressive and upper-class home, who takes a job at a public relations company. What seemed like just another assignment turned out to be a quickly developing troll farm, where he excels in the business of spreading fake news and online hatred targeting famous personalities, celebrities, and politicians. With time, Tomasz begins to use his newly acquired skills in order to stalk, harass, and ultimately control his own family.
It stars Maciej Musiałowski (Ultra Violet), Vanessa Aleksander (Ultra Violet), Agata Kulesza (Cold War), Danuta Stenka (Werewolf), Maciej Stuhr (Aftermath), Adam Gradowski, and Jacek Koman (Children of Men). This dark-themed drama is going to be released worldwide via Netflix.
The Hater is coming to Netflix on July 29, 2020.
---
Unhinged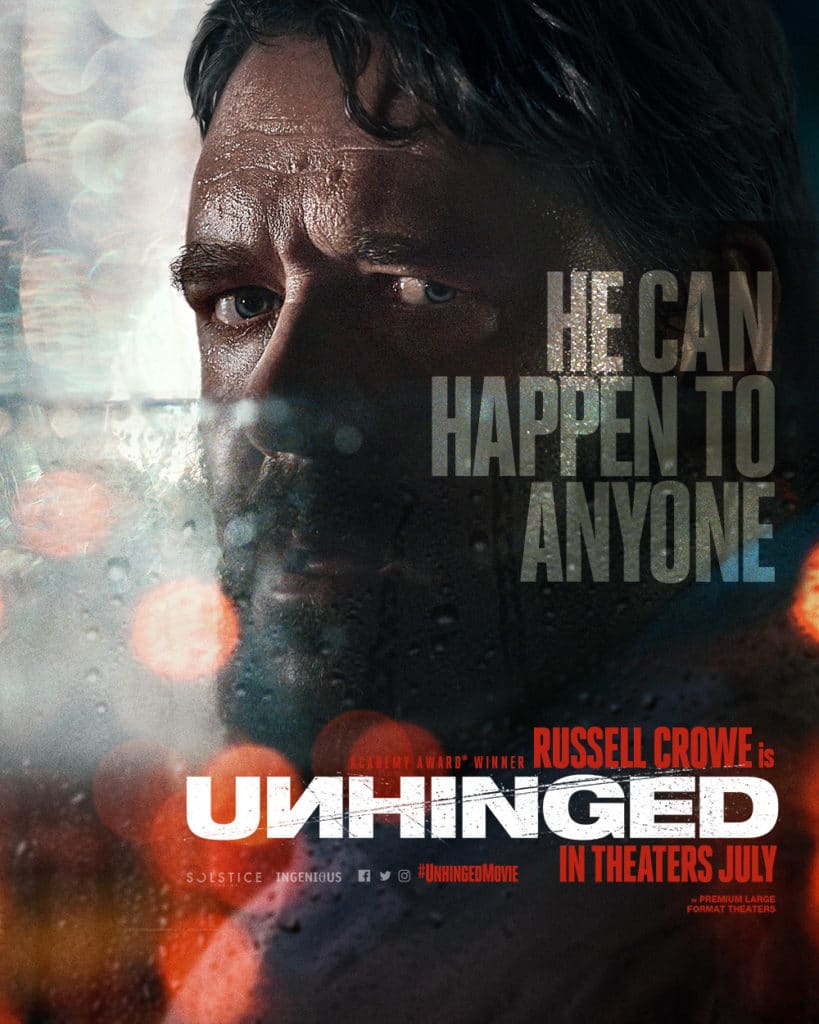 Unhinged is a thriller film directed by Derrick Borte (American Dreamer), from a screenplay by Carl Ellsworth (Disturbia). It stars Russell Crowe (Gladiator), Caren Pistorius (Slow West), Gabriel Batema (Child's Play), Jimmi Simpson (Zodiac), Anne Leighton (Lucifer), Lucy Faust (Mudbound), and Austin P. McKenzie (When We Rise). It is scheduled to be released in the United States by Solstice Studios.
Unhinged is a psychological thriller that takes something we've all experienced, road rage, to an unpredictable and terrifying conclusion. The story follows Rachel (Pistorius) who is running late getting to work when she crosses paths with a stranger (Crowe) at a traffic light. Soon, Rachel finds herself and everyone she loves the target of a man who feels invisible and is looking to make one last mark upon the world by teaching her a series of deadly lessons. What follows is a dangerous game of cat and mouse that proves you never know who you're driving next to.
This movie has a ridiculous premise for a thriller which sets up a crazy ride for viewers. Unhinged is set to be one of the first big Hollywood releases to open in cinemas. Initially, it was set for a July 1st release then later pushed to 10th and after movies like Tenet and Mulan shifted its release, Unhinged followed the same path. It's unseen if it can make its release date this time around, only time will tell.
Unhinged is scheduled for a theatrical release on July 31, 2020.
---
Summerland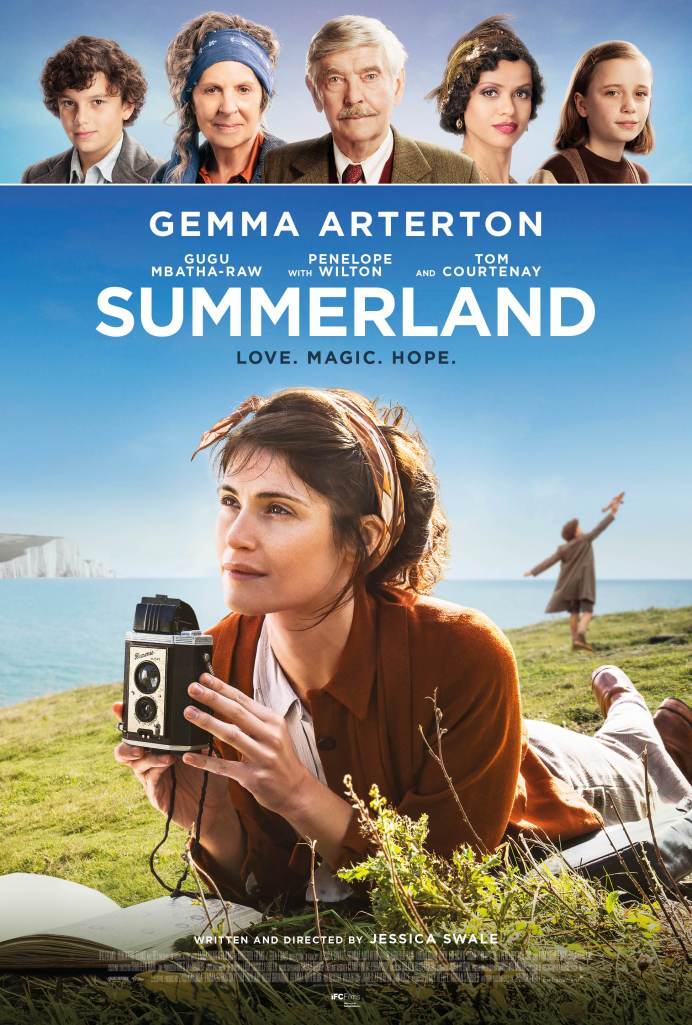 Summerland is a period drama film written and directed by Jessica Swale and produced by Guy Heeley and Adrian Sturges. It stars Gemma Arterton (The King's Man), Tom Courtenay (45), Gugu Mbatha-Raw (Beauty and the Beast), Lucas Bond (The Miniaturist), Dixie Egerickx (The Little Stranger), and Penelope Wilton (Shaun of the Dead).
It tells the story of a woman, a reclusive writer during World War II. She opens her heart to an evacuee that she adopts after initially resolving to be rid of him. IFC Films decided to release this heartwarming tale through VOD.
Summerland's VOD release is scheduled for July 31, 2020.
---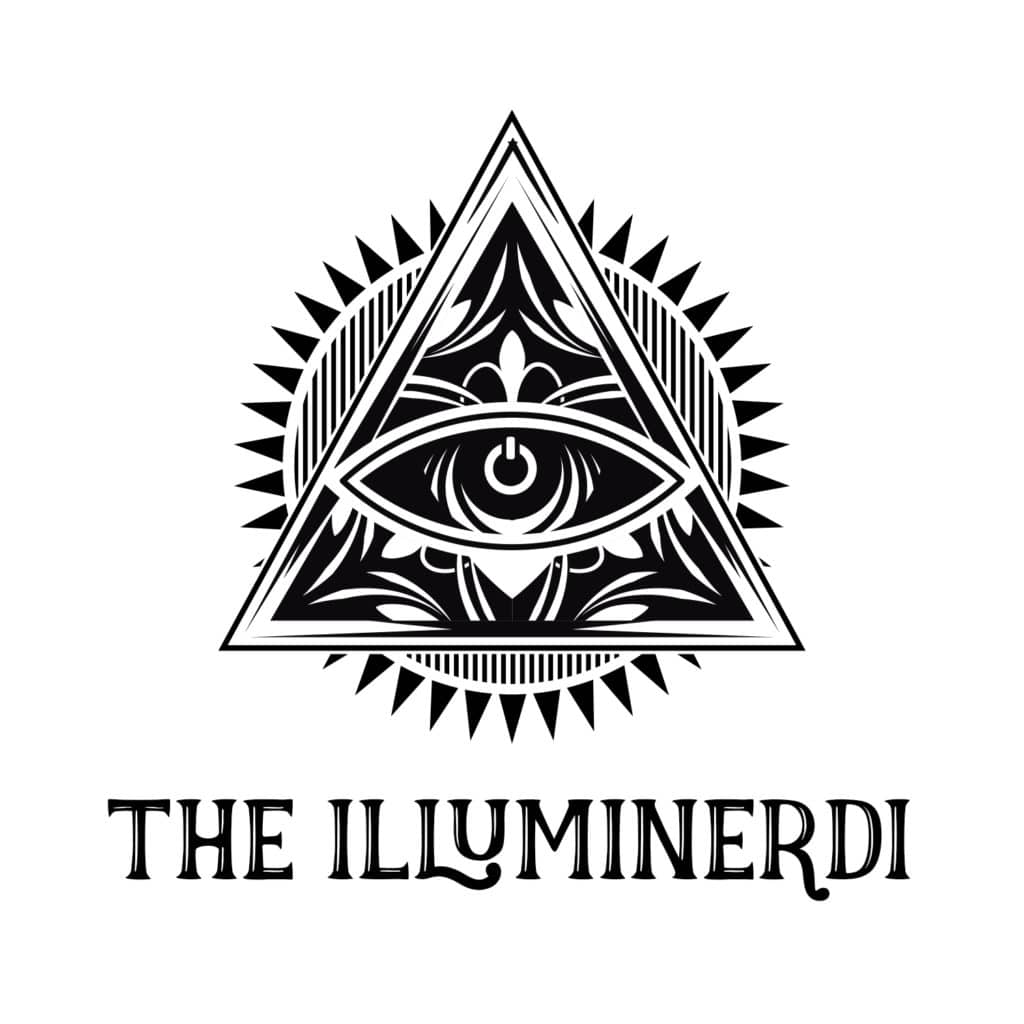 Which movies are you most excited about? Which July movies will you be seeing? Let us know in the comments below and be sure to come back to The Illuminerdi for more movie news.