Desperados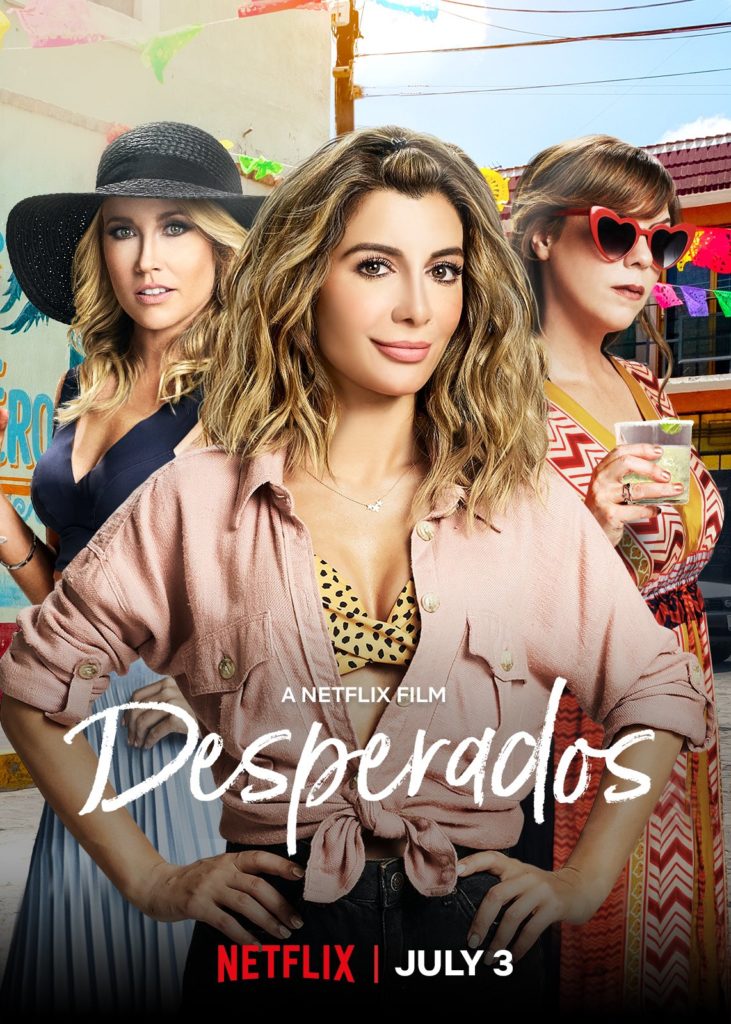 Desperados is a Netflix original romantic comedy film, directed by LP, with a screenplay by Ellen Rapoport. It stars Nasim Pedrad (Aladdin), Anna Camp (Pitch Perfect), Robbie Amell (Code 8), Lamorne Morris (Bloodshot), Heather Graham (The Hangover), and Sarah Burns (Barry).
The story follows a panicked young woman and her two best friends who fly to Mexico to try and delete a ranting email she sent to her new boyfriend. On arrival, they run into her former beau, who soon gets caught up in their frantic scheme. Desperados is Aladdin star Nasim Pedrad's first time playing a lead role in a movie. This crazy comedy film is definitely a fun ride.
Desperados will be available on Netflix on July 3, 2020.
---
The Old Guard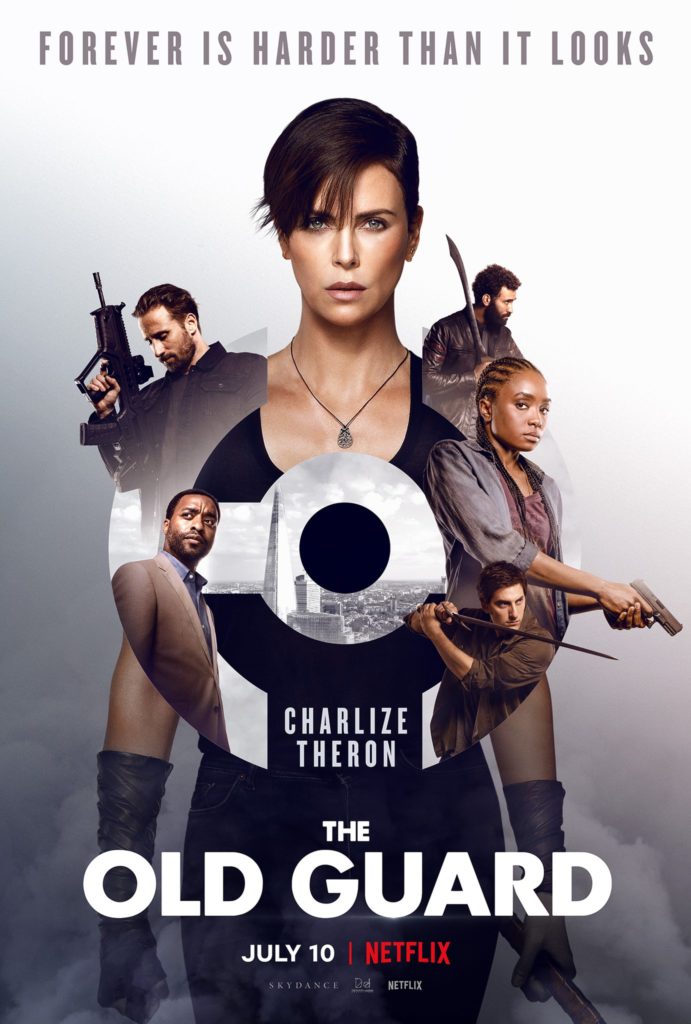 The Old Guard is a Netflix original comic book-based action fantasy film. It's an adaptation of the Image Comics series written by Greg Rucka and illustrated by Leandro Fernández in 2017. The film is directed by Gina Prince-Bythewood, known for Love & Basketball, and with Rucka to adapt his own comic book to the screenplay. Charlize Theron stars in the film and also produced along with Beth Kono, A.J. Dix, Marc Evans, and Stan Wlodkowski.
The movie stars Theron (Bombshell), KiKi Layne (If Beale Street Could Talk), Marwan Kenzari (Aladdin), Harry Melling (Harry Potter), Matthias Schoenaerts (Rust and Bone), Luca Marinelli (Don't Be Bad), Van Veronica Ngo (Da 5 Bloods), Natacha Karam (Homeland) and Chiwetel Ejiofor (Doctor Strange).
This superhero movie tells the story of Andy (Charlize Theron), a woman who is one of a handful of humans who cannot die – right up until they do. She leads a group of nearly immortal mercenaries, with the ability to heal themselves. They are an unstoppable force and work together to save the world and themselves from it.
Related: ACTION MOVIE THE OLD GUARD, STARRING CHARLIZE THERON, RELEASES TRAILER AND POSTER
Though they are able to heal most would-be fatal wounds, at some point their death arrives. They have managed to keep their existence in secrecy from the world most of their life.
But advances in technology throughout the information age brings a new threat to the continued secrecy of their existence. When the team is recruited to take on an emergency mission, just as they find another immortal has "awakened," they discover someone is onto their secret. It's up to Andy and Nile (Layne), the newest soldier to join their ranks, to help the group eliminate the threat of those who seek to replicate and monetize their power by any means necessary.
Oscar-winning actress Charlize Theron is ready to deliver badass action in this action thriller. She always does a great job in action roles and she also looks badass in the trailer. The comics are filled with brutal fights and dark themes and this R-rated movie will definitely give us a taste of it. This is highly anticipated among the July movies coming to Netflix and it offers high-octane action which we shouldn't miss.
The Old Guard is available on Netflix on July 10, 2020.
---
Palm Springs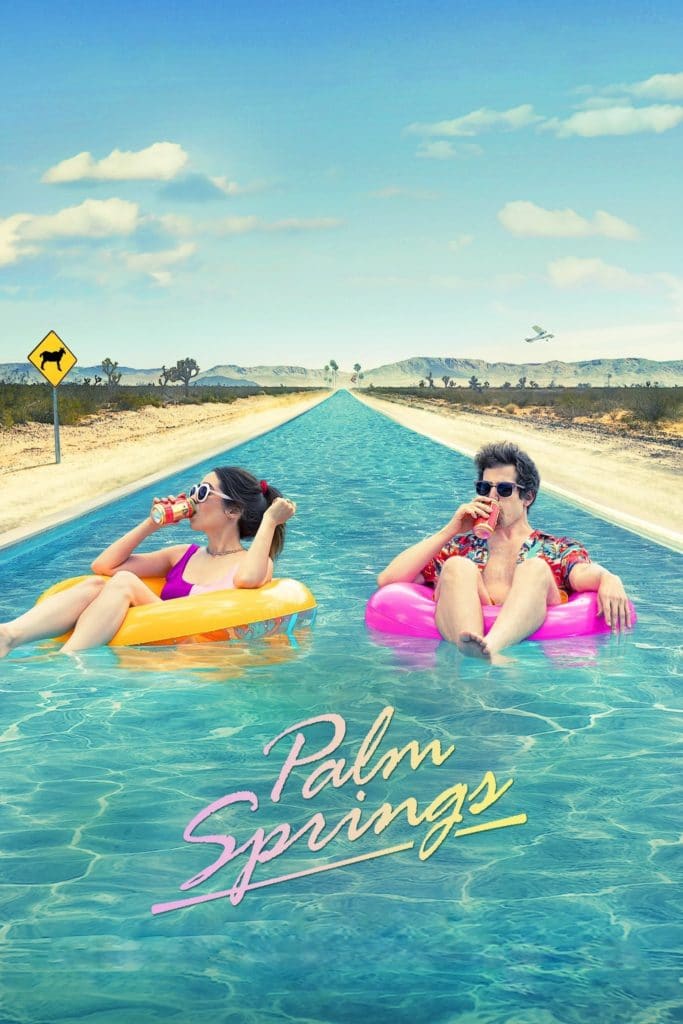 Palm Springs is a sci-fi, romantic comedy film directed by Max Barbakow, in his directorial debut. It stars Andy Samberg (Popstar), Cristin Milioti (The Wolf of Wall Street), Peter Gallagher (American Beauty), Meredith Hagner (Hits), Camila Mendes (Riverdale), and J.K. Simmons (Spider-Man).
The premise of Palm Springs follows two strangers who meet at a wedding, only to get stuck in a time loop. When carefree Nyles (Samberg) and reluctant maid of honor Sarah (Milioti) have a chance encounter at a Palm Springs wedding, things get complicated the next morning when they find themselves unable to escape the venue, themselves, or each other.
The film had its world premiere at the Sundance Film Festival on January 26 and is scheduled to be released by Neon via Hulu. At the festival, it received positive reviews from critics, with praise for the performances and concept. A great mix of sci-fi elements and romantic comedy with great chemistry and even better physics. Which indeed holds a 100% RT score based on 27 reviews. This R-rated movie is both intriguing and hilarious which makes it unmissable.
Palm Springs streams on Hulu on July 10, 2020.