The Legacy of the WWE Performance Center
In The Rock's career, he became a 10-time world champion and a future WWE Hall of Famer. He was also arguably the top guy during the infamous "Attitude Era" of WWE. At the time, his biggest competition was "Stone Cold" Steve Austin. (Austin is better in every way.) The Rock went from the new guy in The Nation Of Domination, Rocky Maivia, to being The Most Electrifying Man in Sports Entertainment…or at least he told himself that.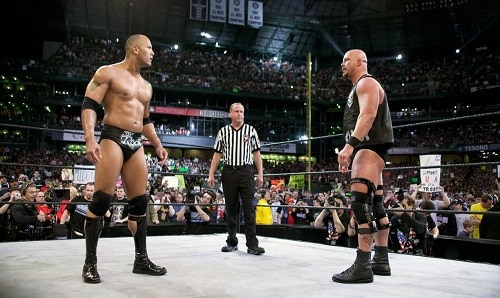 However, without a doubt The Rock was, and still is, one of the most "over" and famous wrestlers alive today. He was a catchphrase machine with quotes like, "Do you smell what The Rock is cooking?", "Know your role and shut your mouth," and generally calling everyone a jabroni. I'm sure some of The Rock's charisma has rubbed off on his daughter and everything else he taught her before her tryout.

Not Everyone Can Fill Their Parent's Shoes
Johnson has some very big shoes to fill. Having a parent be a well-known wrestler opens a lot of doors, but once that door is open they have even more eyes on them because of their name. However, having a parent be one of the most famous wrestlers of the last 40 years is a lot of pressure. Some are able to rise up and become extremely well respected like Goldust and Charlotte Flair. However, others are not able to achieve anywhere near their parent's level of wrestling, like David Flair or Cody Rhodes.
Are you excited to see Simone Johnson wrestle? Do you think she can live up to her father's huge legacy? Hit us up in the comments and social media.
Sources: ProWrestling, WWE, People