Before Renfri dies, she tells Geralt, "The girl in the woods will be with you always. She is your destiny." That girl is none other than Princess Cirilla, but when The Witcher introduces her, she's not in the woods quite yet.
The Witcher And The Little Girl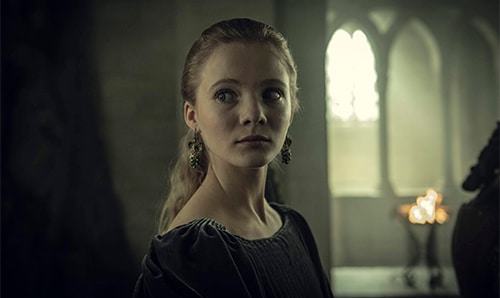 Ciri first appears dressed like a boy and playing games on the street before being called away to do her duty as princess. This opening vignette gives viewers a handle on who she is without over-explaining, which seems to be the aesthetic that the show is going for. Similarly, no dates are given to let us know how much later Ciri's activities are occurring than Geralt's, they are both simply intercut with each other as if they were concurrent. It's a little confusing, but for the most part it adds to the immediacy of the developing storylines.
Over the course of one royal ball, it's clear that Ciri desperately wants to become part of her grandmother Calanthe's (Jodhi May) world, in terms of ruling Cintra and learning how to fight her own battles. But Calanthe prefers to keep the child in ignorant bliss, though it's not quite blissful when young Ciri is clever enough to see the danger approaching and far too restless to settle into a political marriage or a dance with a hapless suitor.
Her education arrives swiftly, however, when Calanthe dies from wounds inflicted in battle with Nilfgaard. This leaves Ciri not only bereft of family, but also of her home. She is destined to rule this land, but at present the land is not hers. Instead of standing tall among the remains of Cintra, Cirilla must flee under the cloak of night without knowing where she's meant to go next – or why she has sonic powers similar to that of a banshee. All we know is that Calanthe says those powers are "why they came."
Mousesack (Adam Levy), the royal sorcerer, is meant to deliver Ciri to Geralt, but he is seemingly struck down by Nilfgaard soldiers. That means it's just Ciri on her own, aided by nothing but her screams. Destiny has plenty in store for her, though, and The Witcher is very much occupied with the notion of it. It's destiny that Renfri, Stregobor, and Geralt all find themselves in the same town on the day that gives Geralt his infamous nickname. It's destiny that Renfri was born on the Black Sun and thus became a witch. But most significantly, it's somehow destiny that Geralt and Ciri will meet, though the circumstances are not yet revealed.
There are some hints as to the timelines in the show, as Renfri lets Geralt know that Calanthe just won her first battle while the audience is busy witnessing Calanthe's last battle. Clearly, we are operating on two separate timelines, which may be considered the beginning and end of her reign. This is further cemented when Mousesack tells Ciri the tale of demonic girls locked in towers and systematically killed, which viewers are witnessing play out through Renfri. Along with a tiny display of magic from Geralt, acknowledging that Witchers are capable of it while "mutants" like Renfri are immune to it, The Witcher peppers in mythology while focusing primarily on character development for its leads.
It's too early to tell if The Witcher will be the next Game of Thrones, but it's off to a pretty strong start. You can watch the first season on Netflix, as it dropped December 20th at midnight.